Death Angel Will Thrash You
This review is presented to you through the joint efforts of ETL and Dazvsemir, the keepers of B.B. King's lore. Photo's credit to Dazvsemir, excluding Death Angel pics which were shot by ETL at great peril to her life.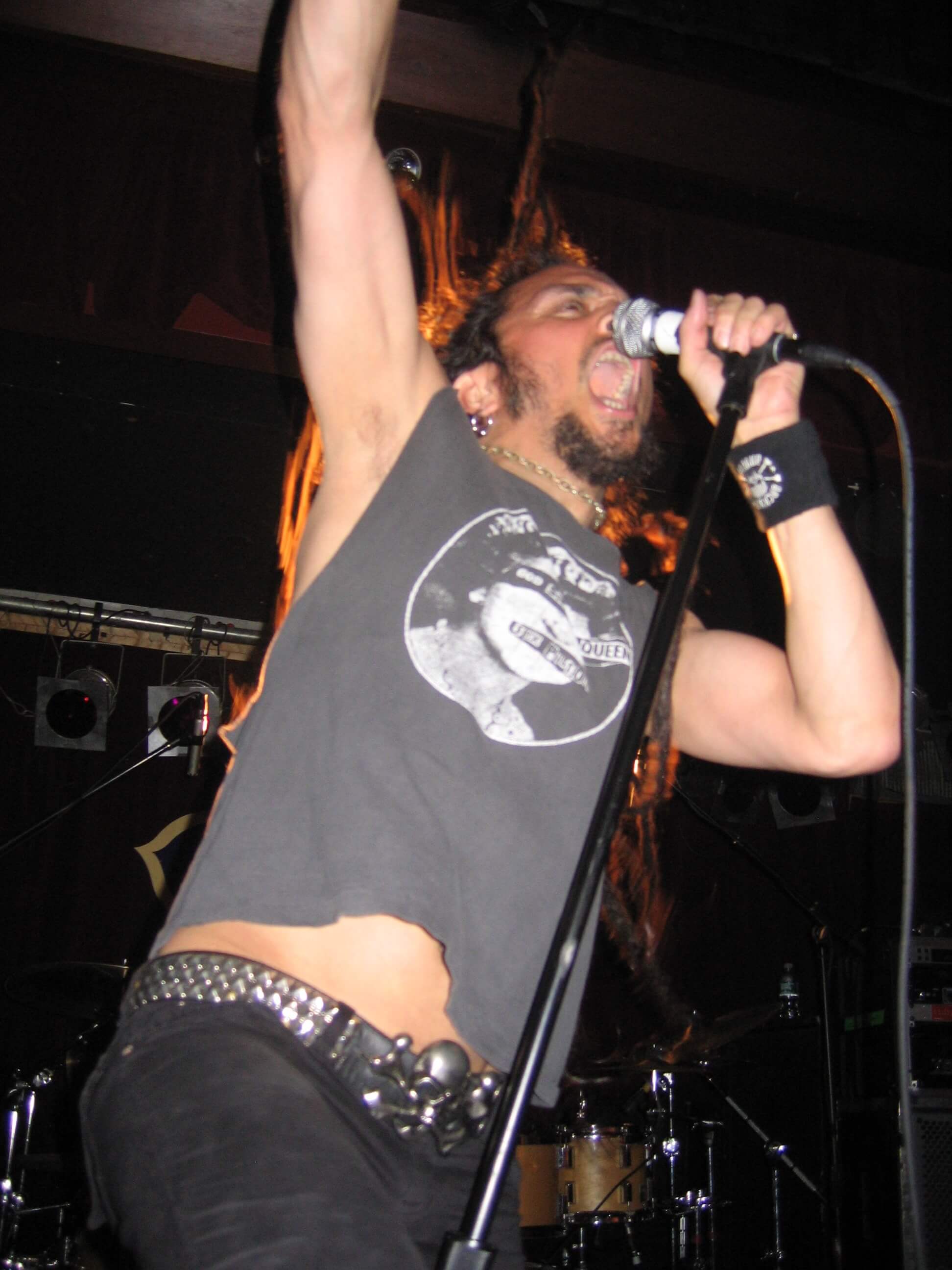 Mark Osegueda of Death Angel
Dazvsemir: In Thrash We Trust, June 11th, 2008 opened with Martyrd once again attempting to increase their local fan base. From what I heard, they performed just as well as I had heard them in the past. Despite this, Martyrd's guitarist Dan Agapitos informed that they sounded "like crap" due to technical problems. The sparse crowd, on the other hand, seemed to be as entertained when Martyrd last performed at B.B. King's.
ETL: I got Martyrd hugs and commended them on their performance without admitting that I was in no way a reliable witness since we showed up just late enough to miss them. Still, the guys seemed hyped and I saw them flying through the crowd for the rest of the show.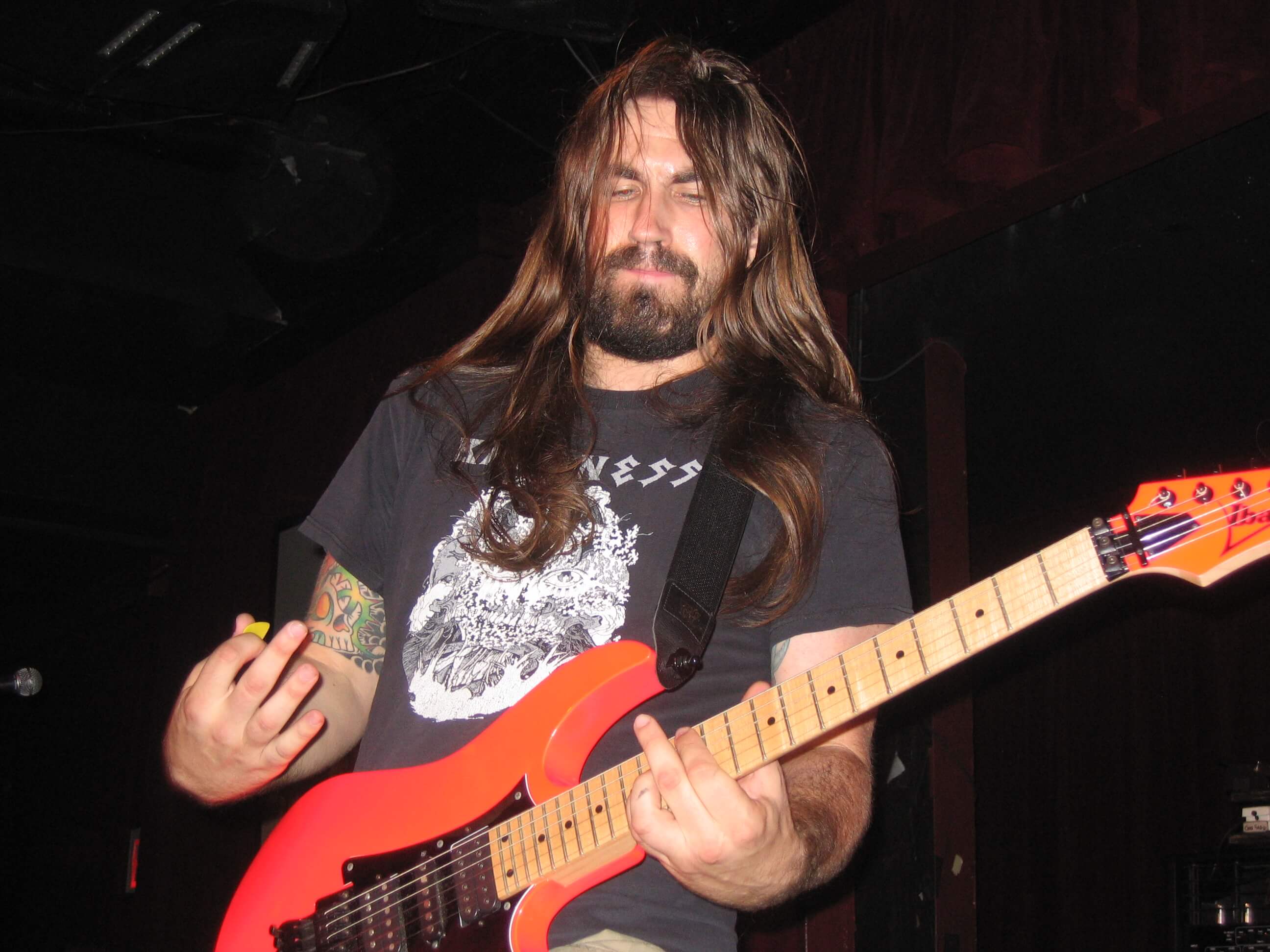 Dazvsemir: I must admit some confusion on my part as I was expecting to see what Soilent Green would have in store. Much to my surprise Arsis took the stage shortly after Martyrd to a seemingly disappointed crowd. As a fan of Arsis, I had wanted to see them live for quite some time. Unfortunately, the rumors I had heard about their live performance turned out to be true. Arsis turns out to be one of those bands that, while their albums sound amazing, have no real stage presence. I don't know why this phenomenon occurs, but it does happen to some great bands from time to time. While I remain a fan, I doubt I will be looking forward to any more live performances by them.
ETL: I kept trying to figure out who they were. I've never seen Arsis live before either, but my guess was that they had to be another local band, another opener. There was no energy, hardly any interest in their fans. The set was very short and they left the stage without leaving much of an impression. Too bad, I was looking forward to Soilent Green.
Turns out Dethklok stole Soilent Green from the tour, it wasn't really put that way, but the dates speak truth! Arsis replaced Soilent Green for the last leg of the In Thrash We Trust tour, June 4-11. Dethklok (ya, the Adult Swim cartoon band, which nevertheless rocks so good) began their tour with Soilent Green and Chimaera June 2nd. And then the tickets instantly sold out.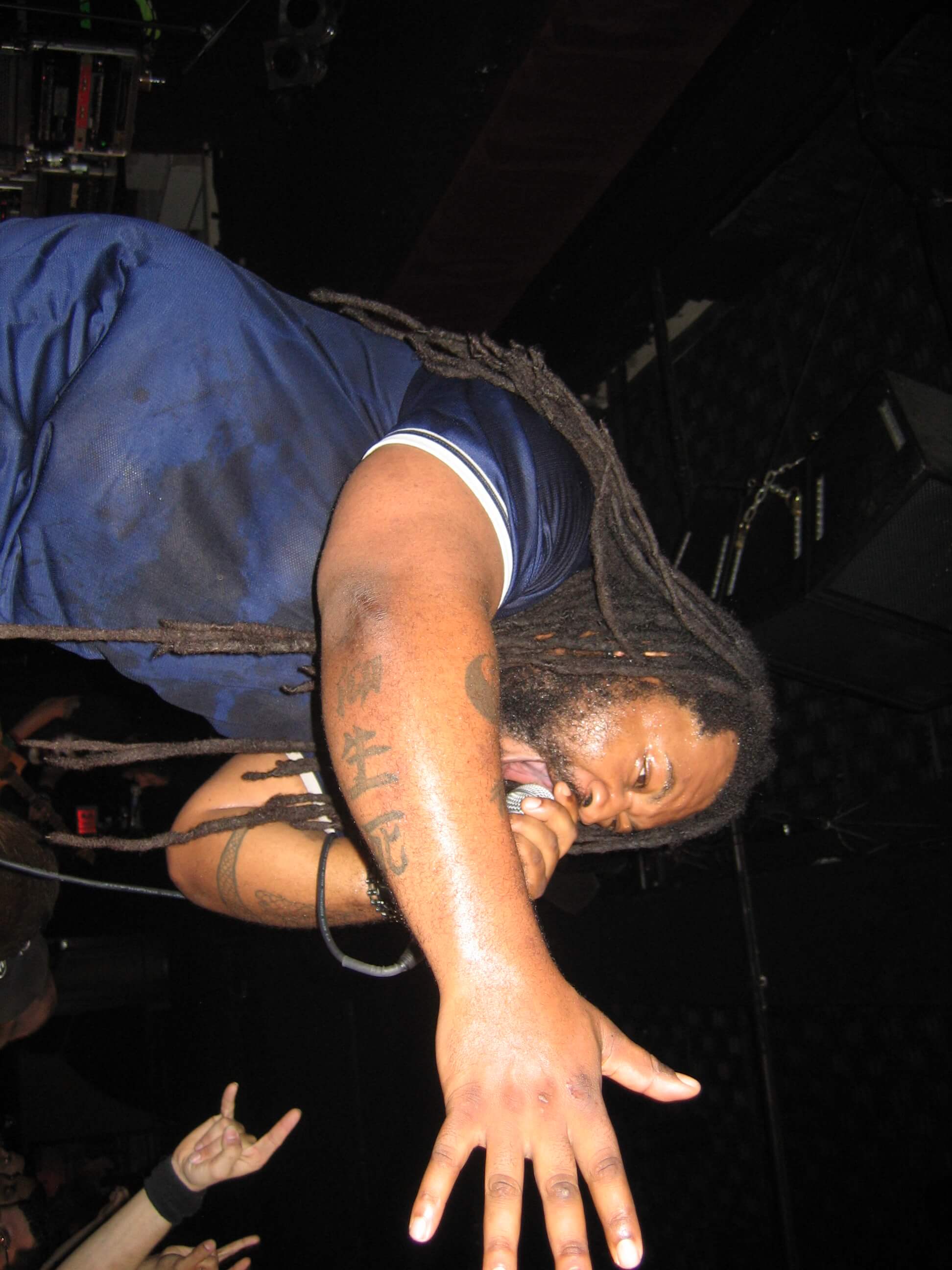 Byron Davis of God Forbid
Dazvsemir: Next up was God Forbid. The New Jersey natives returned to New York City to promote their latest DVD and the recording of an upcoming studio album. God Forbid pounded out their metalcore sound to a mostly unenergetic crowd. At that point it had occurred to me that there seemed to be a smaller audience than usual. There did, however, happen to be sporadic rumblings from the open mosh pit. Though harsh at times, the usual violence was almost non-existent.
The mellowness of the crowd didn't take away anything from the energy on stage. Lead vocalist Byron Davis moved about the stage with the agility of a pro running back despite having the build of an offensive linesman. Flanked by the WSOU press who were partly responsible for the band's success, God Forbid ended their set with the crowd finally full of energy.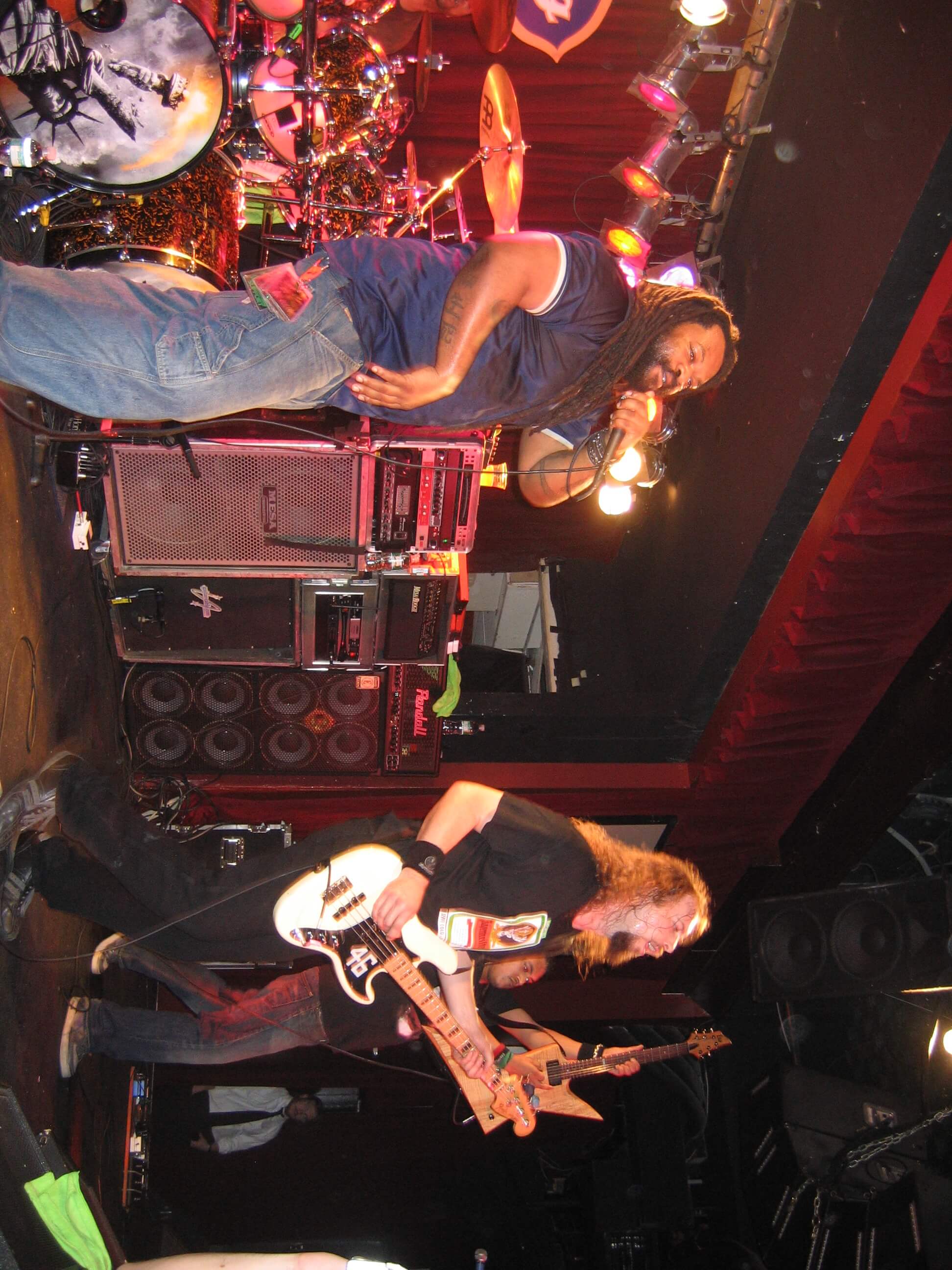 God Forbid there is a party!
ETL: They were fun. Plain and simple. God Forbid put on a show in stark contrast with Arsis. They were yelling into the crowd, jumping around, and sweating with abandon. They opened with "To The Fallen Hero" bringing the attention back to the war in Iraq which is old news I guess, but not to those of us who still have friends and/or family there or who know such fallen heroes.
God Forbid Set List:
To The Fallen Hero
Wicked
Chains of Humanity
The Lonely Dead
Force-Fed
Living Nightmare
Broken Promise
The End of the World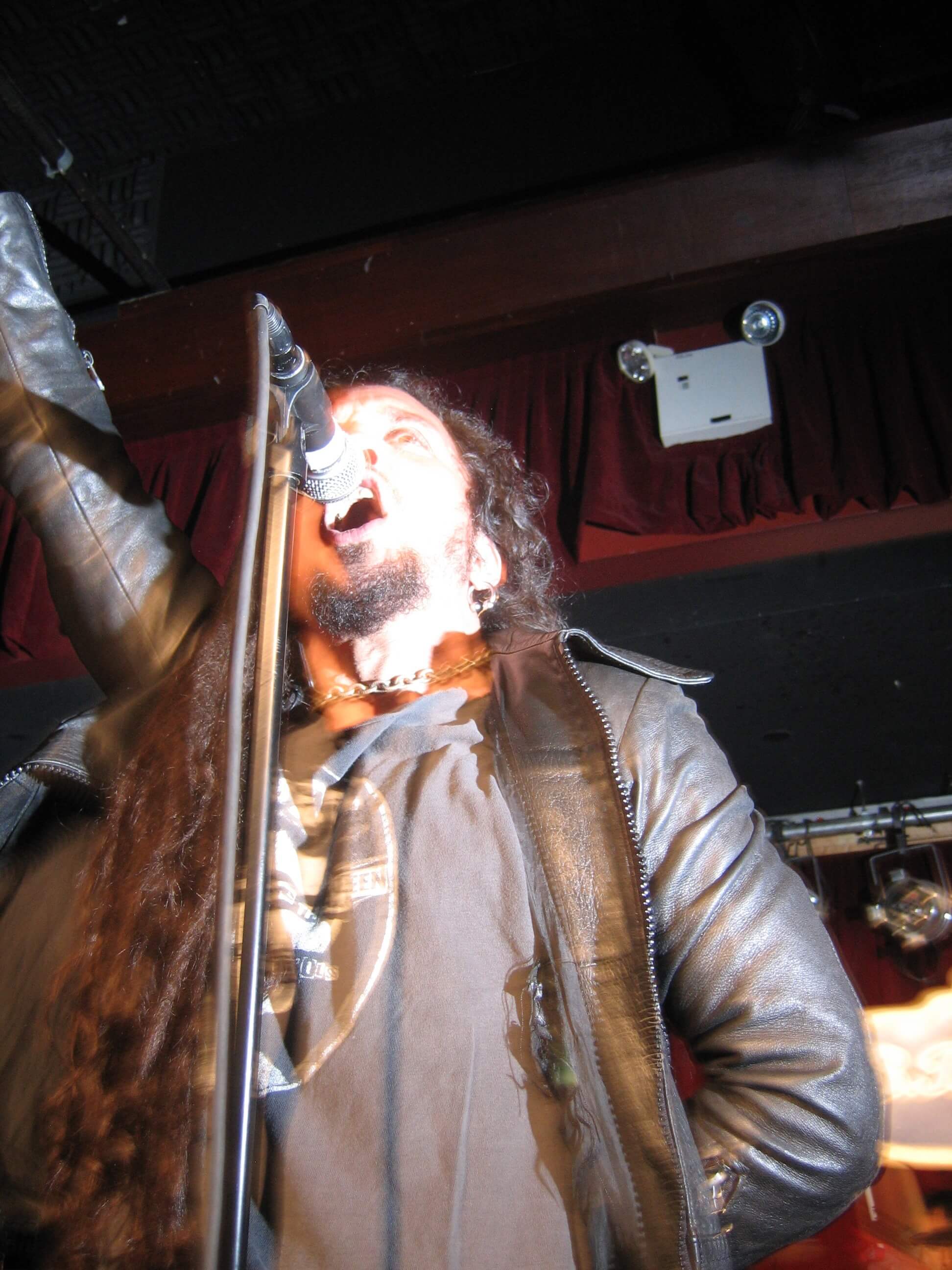 Dazvsemir: Death Angel took the stage for the final show for their first U.S. tour in 18 years. They made their return to promote their newest studio album Killing Season. After their 10 year separation, Death Angel has begun to re-establish themselves as one of the top thrash bands today.
ETL: I've never seen Death Angel before either, and man, was I happy I witnessed them before giving thrash a rest (i'm just not a thrash fan, that's all there is to it). Mark Osegueda ran and jumped and generally rampaged all over the stage, singing and screaming and making fun of himself, the rest of the band and the audience. The rapport he had was of old familiarity and after the set was finished, he wondered off stage and left us with the "four brown hairless guys" on stage before returning once again, shirtless this time and showing off his cut abs to finish off what ended up being a two-hour set. He got me when he dedicated a song to the Bronx and the night ended with "Disturbing the Peace."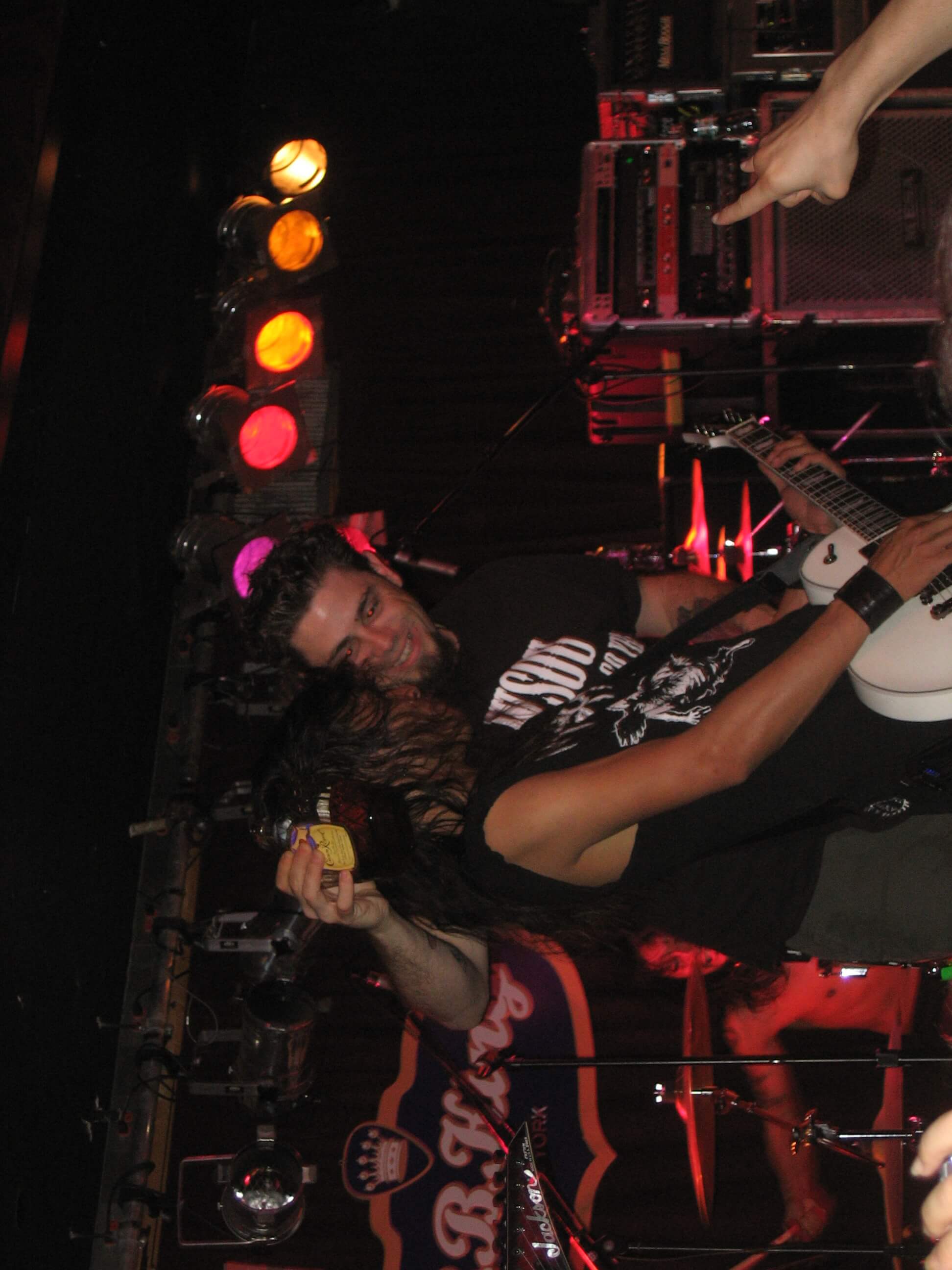 WSOU forcing liquor down Death Angel throats during the encore
Death Angel (approximate) Set List:
Evil Priest
Buried Alive
Vicarious Souls
Dethroned
Carnival Justice
Sonic Beatdown
Soulless
Kill as one
Seemingly Endless Time
Thrown to the Wolves
Disturbing the peace
---
For your pleasure, the one and only time we're gonna do this because it's a huge fucking hassle… a gallery of all the shots we took that night (Arsis, God Forbid, and Death Angel), sans the really shitty ones.
---
What more can you want?! Oh… this stuff: