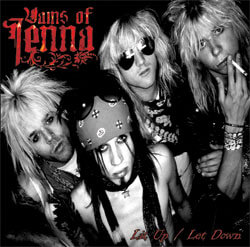 From http://www.discaffinity.com
November 2, 2007. Jacki Stone (drummer) met me by the back door of Roseland Ballroom and Nicki Kin (lead guitar) escorted me to the Vains of Jenna dressing room where Lizzy DeVine (vocals, guitar) and JP White (bass) huddled in their respective sweatshirt and leopard print coat, cursing the chill weather.
Vains of Jenna was formed when in a town of Falkenberg, Sweden two rival bands fell apart, bringing their most dedicated members together. The year was 2005. The band was eventually called Vains of Jenna. Dictionaries began arriving in response to the spelling choice, but they were discarded with sly remarks. VoJ, whose influences are Mötley Crüe, Guns N' Roses, the Rolling Stones, and Aerosmith truly began their career when they played Crufest in Hollywood, in 2005. There, Stevie Rachelle, owner of Metal Sludge and former singer of Tuff, noticed them and quickly became their manager. A week later they were recording in a studio with Gilby Clarke (former guitarist of Guns N Roses). In 2006 they met Bam Margera who signed them to his label, Filthy Note, and they've been touring the U.S. ever since supporting their album Lit Up/Let Down.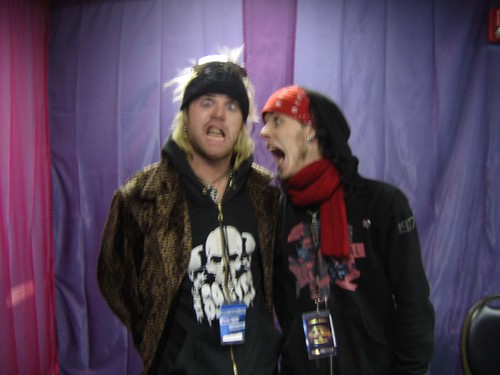 Back at Roseland, JP and Lizzy are both rubbing their eyes and yawning. Although obviously tired, they are affable guys and after shaking my hand and introducing themselves settle down into their chairs. Torn between the desire to smoke and the intense dislike of the cold weather conditions outside, they eventually lay the cigarette dilemma aside and we launched into our interview.
(JP White and Lizzy DeVine making faces for your amusement) Continue reading →