Losing My Wacken Virginity (Part 1 of 2)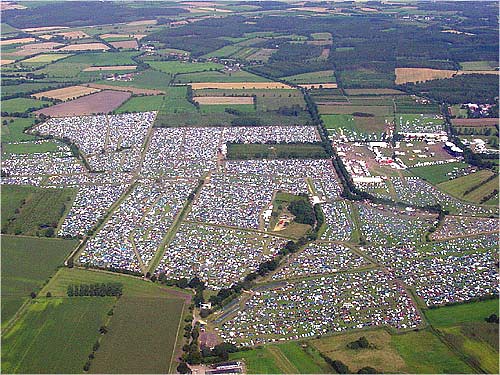 Aerial of Wacken back in 2004, when it was still more manageable. Click here for previous aerials.

Few things hold more promise than huge festivals full of strangers and booze. Wacken Open Air brings all these possibilities to life. It is, unquestionably, the Metal Mecca of the world, but the music itself is only the starting point of a romantic lifestyle requiring metal encrusted leather, lots of beer and burping and pissing, and of course, rolling around in filth, falling into mud pits and freezing at night. It's about being heroes, like in the bygone times, when men were quaffing Vikings and women were scantily dressed maidens. Like in those long ago times, it is also a time of pain.
Lets begin with the saga of Brett. He is a slight man of 22 who has been holding down a clerical position by day and rocking out to the likes of Nile and Samael at all other available hours. His decision to go to W:O:A 2007 was a little belated and just as he made up his mind, http://www.wacken.com pronounced the festival sold out. In lieu of letting the dream die he turned to E-Bay.
E-bay supplied him with a ticket, for an exorbitant sum of over six hundred American dollars, which he paid up. The ticket could only be shipped to England, but Brett thankfully had some friends who were also going to Wacken situated in the U.K. With the precious ticket safely in the hands of one of these friends, Brett, armed with a phone number, got on the plane.
01.08.07 Wednesday
I met him on the platform of one of the trains that would eventually get us to festival grounds. I was actually behind him in line for the metal detector at the airport something like thirteen hours before then, and seeing his perfectly dyed black hair, all-black attire and combat boots, I had an idea I would see him again. We took the train together, but then parted ways as I made my way over to the Remedy Records shuttle and he went to Itzehoe. I pretty much didn't expect to see him again.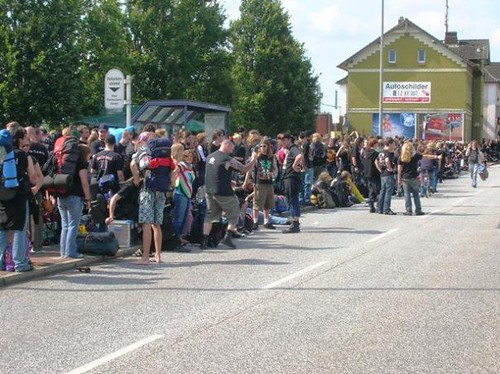 Crowd waiting for shuttle bus at Itzehoe. Courtesy of Roy Doron
But I did, sometime Wednesday evening, and things looked grim. He couldn't find his ticket-holding friend, who was also in charge of the tent. The good news was that Wacken wasn't as sold out as we thought and he was able to buy yet another ticket. After communicating this somewhat fortuitous point he walked off grimly determined to continue dialing his friend's number, with every possible area code combination.
I saw him again around midnight. It was pitch black, I've already had a few beers, and I decided this to be the prime time to discover the paid toilets close to which I situated my tent (close enough to find, but not so close I could smell them). On my way out I bumped into Brett eating a muffin and drinking a juice by the little snack bar right outside.
"Did you find your friends!?" Turns out he didn't, although he did find a great guy named Ben who had enough space in his tent to accommodate another body. So Brett happily settled in, leaving everything but his passport and money behind. Now that darkness descended and hundreds of new tents sprung up, he was completely unable to find anybody. Of course I took him in.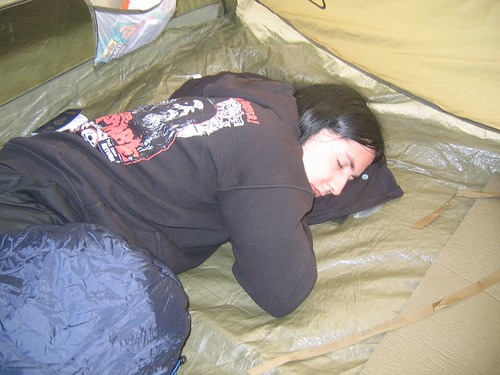 Earlier in the day, while talking to people on the Remedy Records shuttle, I realized there was a big to-do about showers which are contained inside a large tent with a few benches and rows of metallic walls with shower heads sticking out of them. No privacy you see. But the water is always hot, which is especially good when you shower late at night, and the temperatures are close to freezing. If you forget personal hygiene items and are sober enough to care about that sort of thing, there is usually a tent in the general festival area selling toothbrushes and such. The British girl I was talking to told me, with a certain unease in her eyes, that I won't like the showers, because "you have to be naked." Uh-huh… next amazing fact please.
After spending 2 hours looking for Edeka Markt, and picking up my ticket, and dragging all my shit back to where the shuttle dropped me off, I really had no patience to look for the showers near which I decided to camp. Thankfully, nearly everyone spoke English and many have been camping since Tuesday (or even Sunday!), even though the festival doesn't actually start until Thursday. I asked around and a kid taking hits from a huge bong gave me directions to a large and prominent shower/toilets tent, which was conveniently situated next to what may have been an irrigation canal but has become a swamp and was soon destined to become a piss trough. I followed that until I found an empty spot and there I collapsed. This prime location also saved me the trouble of worrying whether I will ever find my tent again.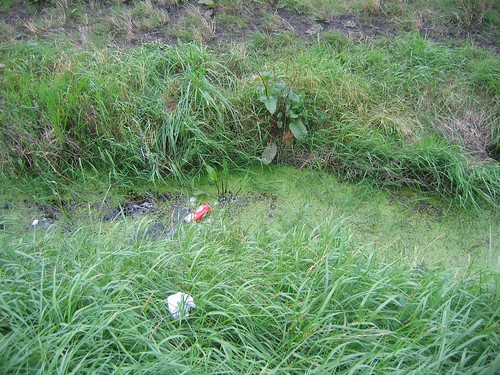 Eventually it began to reek
While at Edeka Markt I got my first frontal view of male genitalia. A small group wanted their picture taken and a guy who until that point was sprawled out on the ground in front of me, chewing on his ragged and bleeding cuticles, sprung up and offered his services. One of the guys promptly dropped his pants and repeated this act for several photos while the security guard, myself, and the drunk and bloody kid's friend looked away. The security at Wacken seems more concerned with keeping people from open hostilities (of which I saw none) and also from sneaking liquor anywhere near the stages thereby promoting the buying of beers and cocktails on site.
By the time night came I stocked up on some provisions from the market, made myself familiar with surroundings and, of course, picked up a tent-mate. Brett of Many Misfortunes managed to fall into a mud puddle earlier and so was soaked through. He got the use of all the clothes I wasn't wearing and slept fairly comfortably despite there being only plastic to separate him from the cold mud upon which my tent stood. Drunks tumbled all around like inept acrobats and partying went on all night. Too exhausted to care we slept through it all while strange shapes flitted across the walls of our tent and fireworks exploded in the distance.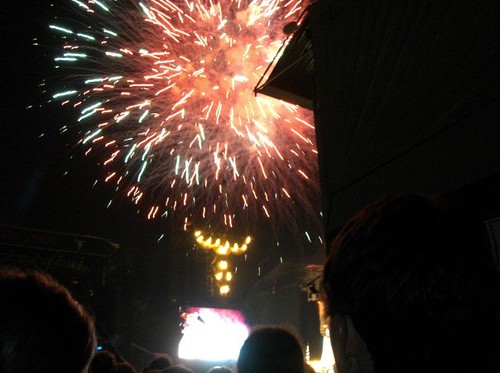 Courtesy of Garth Witmer
02.08.07 Thursday
Many tents sprung up around us overnight. The queue of cars waiting to get in was still long as people waited hours and hours to move a few feet closer to the grounds. The frustration factor seemed minimal as I watched people jump in and out of cars, ride on top, blast music, get drunk and throw themselves in front of cars of people they knew or were about to get to know better. The whole village of Wacken was out and about in all the hubbub in the role of audience and beer/souvenir hackers. The children used the festival to make some extra cash, especially the enterprising Kristin of "Kristin Express" who hitched a little red wagon behind her bike and carted beer between the markets and the festival.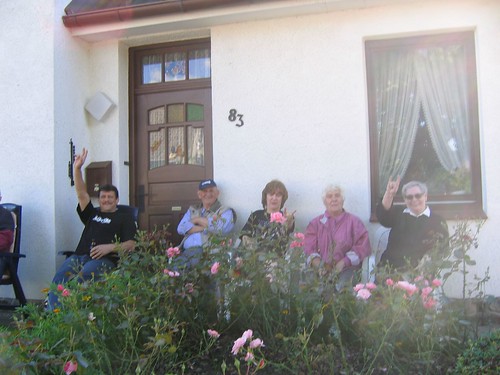 Gramma threw up the horns!
The metalheads who come to Wacken are true to their name, there is nothing neu about them. Amon Amarth, Children of Bodom and Blind Guardian are their gods. Many of them are polyglot, blonde, blue-eyed Norse gods who only know the bite of cold and the grim night. All I see is long hair, leather/denim vests full of patches, huge studded boots and faces red with sunburn and liquor, metal liquor: Jim Bean, Jack Daniels and some of the best beer the world has to offer. Bring forth your drinking horn!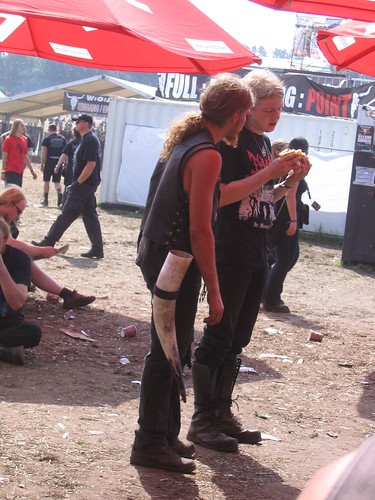 Compensating for something?
The bands don't start playing until 5pm, so after stocking up on food and booze and spending most of my money at the Metal Market there wasn't much left to do but hang around outside of the my tent, get sunburned and people-watch. Sort of like at a street café in New York, except that this time people were a little more liable to pee a foot away from you and then fall into the puddle of their own making.
The sun began its course downward; the mood was that of impending insurgency and anticipation. All the thousands of hyped up and testosterone pumped bodies needed was a slogan to unite behind; an anthem to propel them to a better world. This was provided by popular media and "The Simpsons Movie" in particular. Meaning wasn't important, it was the universal understanding of the absurd and humorous that ruled. Spider Shwein was an idol to revere and to worship with word and permanent marker.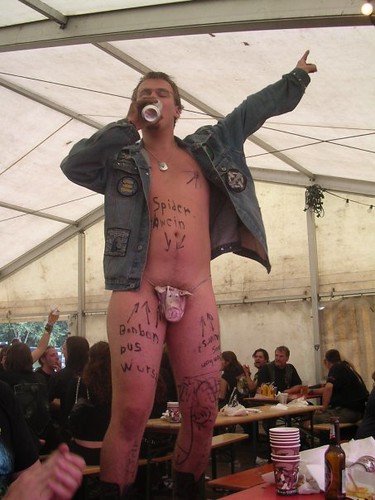 Courtesy of Frida N.
Rain threatened all weekend, but nothing more serious than easy to ignore drizzle came down just as the music finally began. It apparently rained like mad the week prior which would explain all the straw-covered mud stinking gently as it sucked on my boots with slurpy kisses. It felt like walking on pillows.
Drinks aren't allowed into the stage area, but I walked past the female guards with a water bottle full of whiskey, of which I partook heavily to drink away the fact that two days ago I was sitting in front of a computer at a corporate office, fixing type o's for an executive.
The first band I caught was Narziss playing the temporarily renamed Hellfest stage, followed by Neaera, Animal Alpha and All That Remains. I stuck it out through these four bands and then adventured into the night. That was the most complete set I saw, as it really does become more difficult to catch the music you want to catch without missing something else or chancing being stuck so far back you may as well stay in your tent and listen from there. I didn't really expect to be moved until All That Remains. I obviously never heard anything by the other bands.
Narziss did their metal thing on stage and chatted to their crowd in very good English despite being originally German. The crowd cheered after the frontman finally said "no more shtick" and then a circle pit broke out, and was sustained for some minutes. The set ended and a guy next to me thoughtfully vomited in his hand and stumbled past. I moved into the pit. God help me, but I wanted to be up front for ATR.
A girl near me was smoking a cigarette. Her index finger was topped with a long black nail, and the middle finger swaddled in fresh gauze extending to the wrist and palm. Her injury was obviously recent, well treated, and not considered a hindrance to being where the violence will break out soon.
Neaera reminded me that I am simply not good around crotches that happen in my direction unannounced as a crowdsurfer suffered the wrath of my elbow. Neaera was a pleasant surprise and a favorite new addition to my metal arsenal. The heavy music is interspersed with some melody and the shrieks with some clean vocals. The contrast grabbed at me and made me focus on the stage where the frontman was screaming something in German.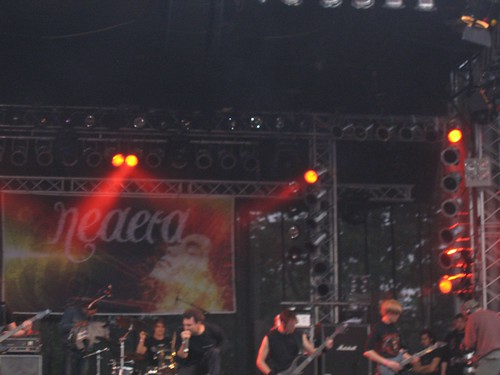 I heard the words "circle pit" and despite how tightly the people around me were packed, we were now packed even tighter as the center cleared out and a circle pit whirled screaming fans clockwise, picking up new members until it broke down into chaos.
Between songs I again heard something in German, and, again, the center cleared out. Except this time, I didn't hear anything about a circle pit, so I looked around and it's just me, and large men with no shirts on. And I saw they were looking back at me. And I saw pity in their eyes. Understanding dawned as I noted a wall of antsy looking guys build itself opposite from a one-person deep wall in front of me. "Oh no…" I possibly yelled before being pushed forward into a run and smashing into people opposite of me.
At a 30-degree angle from the ground which now had nothing to do with my feet I strained to breathe. After a few minutes of herculean effort, I finally made it out of the pile of humans collapsed in on itself. A tiny Swedish guy was lifted from the very center of the pile, purple with the effort of survival, but motioning that he is OK.
I reached for my whiskey and found that pocket wanting. But I need my whiskey! I need it to help my lungs expand again! So I staggered around and looked under people's feet until I found my bottle trampled into the mud but still intact. I dug it out and drank my fill–come to my lips my darling, I treated you poorly, but you love me all the same. At no point before, at any show, have I been part of a Wall-Of-Death.
Don't think I didn't keep drinking it!
Most people were willing to sit through Animal Alpha, myself included. Appealing in their own psychobilly way, they eventually played a song I've heard before, "Bundy," and although I already decided not to think much of them, I couldn't help but at least like that one single. Still, at a festival famous for its metal, Animal Alpha was incongruent despite all the white face paint. They, as well as Lacuna Coil later, seemed to focus in on a Hot Topic following.
By the time All That Remains came on, I could see my breath in the chilly air. Freezing and stinking I welcomed the press of other bodies in similar condition. The roadies messed around with the equipment for too long and the crowd got restless. Finally the band came on and made me realize that I was homesick. Sad but true. I didn't want this American band to leave the stage because in the sea of Europeans, I haven't really heard an American accent all day. I was dying for a familiar chord. I traveled to the front, smashed up and beat up, where the muscle I pulled during Neaera loosened up. Then I kicked my way back to the pit.
Despite overall greatness, the best part of the show was in the end, where six guys wrestled all over the campground for one drumstick; none of them were willing to give up. I followed them around and took blurry pictures while they screamed at each other, bit each other, tripped each other up and then clambered back up. Sweat drenched I followed their progress with whiskey-fueled hilarity doubling me over until one man was victorious and climbed out of the sprawling mass of legs and heads and arms all ending in one point—the drumstick.
I considered hanging around for Hatesphere and Overkill but liquor and metal are fine bonding materials for strangers and I ended up walking off for a drink with a fellow All That Remains admirer. Our unsteady progress across straw-covered and metalhead-strewn mud was checked by guys chasing each other with armfuls of straw.
As the night went on, I forgot my journalistic duties and although I may have heard a little Overkill I mostly concentrated on not tripping over passed out drunks in fear of becoming one of them. Eventually I made it back and around 2am I showered, listening to the guys on the other side singing and shrieking. I was very proud of myself for not slipping on the wet wood. After a treacherous journey back to the tent I collapsed into my sleeping bag and slept the dark sleep of blackout.
At three in the morning I heard my name called and quickly wondered if a new "friend" decided to seek me out refusing to take a no for an answer. But it was only Brett. Despite finding his British friends, and their tent, he decided to come back to me under the pretense of my ground being softer. He caught me up on all the latest misadventures and I slept again.
————————————
CLICK HERE FOR PART TWO, REPLETE WITH WORDINESS AND A COUPLE OF PHOTOS OF ACTUAL BANDS
Article and Images Copyright © 2007 to ETL unless otherwise specified or The Simpsons