Velocity of Demon Spunk Equals G Times WAR Squared
Friday, November 2, 2007. Oh. Man.
The Rockstar Energy Drink Viva La Bands tour, sponsored by Bam Margera (of Jackass), featured Vains of Jenna, an interesting new sleaze rock band from Sweden as opening act, and was headlined by Cradle of Filth, who are pretty uniformly awesome. The tour also featured another band, one that I had heard of, but never seen, and not really listened to. They're a famously outrageous band, so I had a little bit of a notion of what to expect; I knew it would be fun.
I was so unprepared. I was more unprepared than the proverbial Polish cavalry riding in to face the tanks of WWI. I was more unprepared than you before your Insert-High-Stress-Standardized-Test-Here. I was more unprepared than an extremely unprepared thing.
That last band was GWAR.
The first inkling that something somewhere was going to go horribly, horribly, awry, was during the Vains of Jenna set, when a man in a mask and a woefully inadequate loincloth ran out wielding a giant menacing styrofoam axe, and pretended to decapitate one of the Swedes.
Thereafter, VoJ departed the stage, and the roadies set about preparing for the arrival of our self-styled alien-demon overloads. The backdrop: A giant painted demon-pirate ship, a quaint village scene before it, with little shops and wooden homes– Everything dripping with rivers of painted blood, and adorned with flayed plastic (baby) corpses. It was as if… Alien-Demon Overlords had invaded Hobbiton and laid waste in ways Sarumon couldn't even dream of.
A deep voice informed us on the origins of the Alien-Demon Invaders: they crash-landed on Earth eons past and slumbered beneath the rock for thousands of years, until we humans unthinkingly started polluting our planet and the filth woke them from their sleep, whereupon savagery and destruction became the way of life. Their goal: Destroy the Human Race (apparently) one Republican and right-wing nut at a time.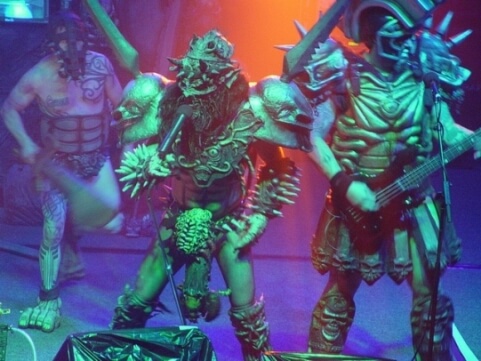 Desire to be soaked in demonic excretions overcame photographic duties, so this picture is not of the same show and comes from this website
Here is where it gets really weird. "IT HAS A FACE" I yelled to ETL. And surely, frontman's enormous penis hung low and scowled at us. We were seen by Oderus Urungus' "Cuttlefish of Cthulhu".
The weird kept going. Every "song" was accompanied by an enemy: a "nazi-Pope", Hitler, George Bush, Hitler again, possibly Dick Cheney, Bam Marjera, Jesus/Hitler (there may be a little bit of a theme here). Oh, and a gigantic dinosaur. The enemy was a costumed person who would come out and spout whatever stereotypically crazy thing they're famous for, whereupon some member of the band, or one of their demonic loincloth-wearing goons would savagely murder them. Releasing, of course… Blood. Gouts of it, geysers of it, great oceans of it. All over the crowd. And it wasn't only "blood." One of the Hitlers was… pleasured… prior to his destruction. Dick Cheney (?) suffered from explosive diarrhea. Bam Marjera was fed to the dinosaur, which was then slain. A demonic goon decided the crowd should be attacked with some other substance, possibly acid, fired from a gun made of bones. All this ended up in everyone being positively soaked in liquids of various and dubious colors. The idea of saving my grey shirt is laughable.
We later found out that hard-core fans wear perfectly white, perfectly new clothes to give GWAR a chance to decorate with fluids of green, black, brown and red exiting demon orifices. That explained why we saw a couple wearing angelically pristine attire at a metal show.
The crowd was amazing. We naturally had to be in the press and thick of it. It's best when, if you aren't in a mosh pit itself, you just sort of limply allow yourself to be swayed back and forth in the press of the crowd– fighting it is useless. All you can do is grab on to whoever is nearest you for dear life if you feel like you might fall down. We screamed unintelligibly, we swayed and fought, and laughed uncontrollably. This stage show was insane. I haven't been this wet, cold, and dirty since the Mud and Turf Wars at a torrentially rainy Ozzfest in Connecticut. And we're at an indoor show this time.
If you have heard of GWAR I needn't describe them to you. If you haven't, Google them. Then– and this part is important, so pay attention– buy tickets to see them play. You will never have more simple and unashamed fun at a show, and you may not ever again. Do not wear clothing you like (although everything should come out), and do not wear a rain slicker. Earplugs are optional and allegedly still manly (we've noted that our hearing is going and are trying to get into the whole earplug wearing thing).
I could now describe Cradle of Filth to you, the ostensible headliners on this tour. I could tell you they are amazing, and that their set was fabulous and fun and savage and beautiful. All of these things are true. I could tell you that there was a BLIND GUY IN THE MOSH PIT, WITH HIS STICK. This is also 100% true. But nothing I say now about Cradle, about the music, even about that amazingly hardcore blind guy, could compare to the ringing in my ears, or to the sound of my own laughter over the guttural screaming of GWAR.
---
For more information on the bands check out these sites:
Cradle of Filth – www.myspace.com/cradleoffilth
GWAR – www.myspace.com/gwarofficial
Vains of Jenna – www.myspace.com/vainsofjenna