I may as well start this thing again! This is a comprehensive outline of Wacken preparations. For last year's list of things I did as well as a short explanation of Wacken Open Air and why I have to go, click here.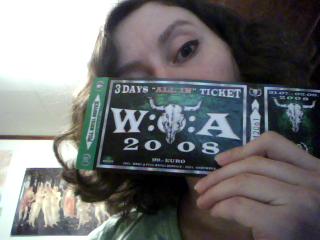 Well, first off, you have to sacrifice something big enough for He-With-No-Name to take note and allow your credit card to be accepted at Metaltix. My Amex credit card kept getting rejected (something about a transfer not going through), and Metaltix did not deign to reply to any of my pleas or queries. Finally, I just used my Visa debit card and within days I got an e-mail informing me that my ticket was shipped. An agonizing month later I got my Wacken ticket (as well a set of bewildering coupons to a German McDonald's), in the mail. Good thing too, since Wacken has been officially sold out since 3/8/08.
This year is going to be astonishingly good X 2, because I'm not going by my lonesome — fathful d42 got her ticket too. Good things have been happening for W:A:O also. They got the Live Entertainment of the Year Award this year which only confirmed their awesomeness. Now I'm just sorry I didn't get an extra ticket since selling it on E-bay would probably pay for the plane ride there.
Transportation to Hamburg: So, I have my ticket, great. But that's only half the battle. Now I have to afford plane tickets from NYC to Hamburg, and finally get from the airport to the festival grounds. The sites that have been more helpful with(cheaper) plane tickets so far are sidestep.com and studentuniverse.com. Continue reading →