Rocking Out PhD Style: A Stone Document Quickie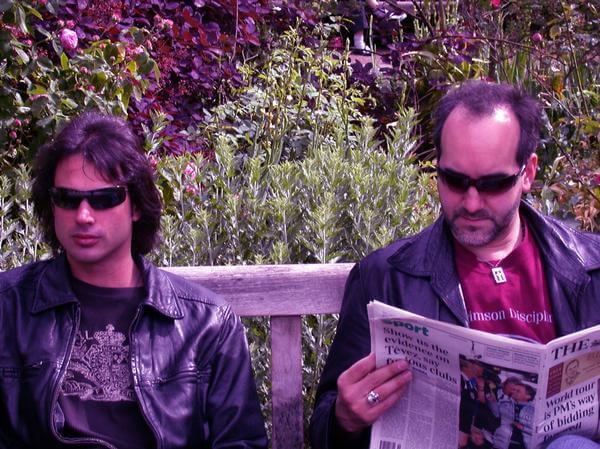 Stone Document, which is comprised of Dennis Tirch, PhD (that's right, a doctor!) and Mike Roze (not sure what his dayjob is) put on an amazing show on Wednesday, January 16, 2008 at Fat Baby.
Despite being the opening act that night, they played a 45 minute set at this SOHO venue comprised of a lounge/bar upstairs and a small venue (the size of Mercury Lounge), downstairs. Although Stone Document have limited fans currently, I can see a following already in the works. How do you know if you're a Stone Document fan? If you prefer the experimental rock of the 70's and 80's combined with the progressive rock of the 90's and 2000's, you can enjoy Stone Document. If you're still unclear, just check out their myspace page and take a listen for yourself.
I had the pleasure of seeing these gentlemen play some amazing tunes. Dennis, who stylistically resembles Eric Clapton, achieved delicate, but noisy (in a good way!), guitar riffs. The sound was not only mesmerizing, but the unique yet calming sounds of the guitar came as a surprise. Mike, on the other hand, adds the upbeat tones to Stone Document's songs by rocking out on his drums.
Overall, I suggest you checking these guys out, especially if you are looking for the 3 R's: relatively new, refreshing, and relaxing.
**** out 5 Stars
---