NYC Restaurant and Foodservice Expo: A Gateway Drug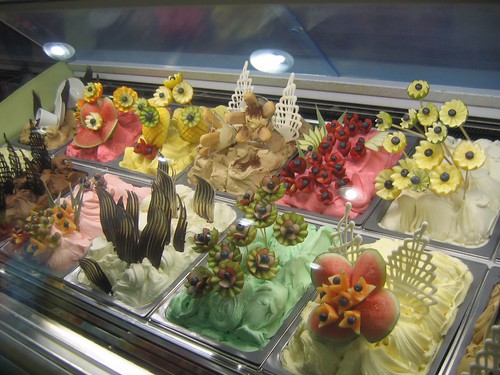 Random picture of things done with sugar to get you in the right frame of mind.
It was March 9th, and our trip to the Jacob K. Javits center on Manhattan's west side began with an early morning phone call from ETL: "Hey, what time do you think it is?" I chewed my cereal and considered this for a moment. I glanced at the clock—it clearly said 8:36. Waaaaaaiit a minute… ETL's pregnant silence was like a claw hammer in my heart. FUCK– Daylight savings time! The one event we were looking forward to—the Press Pastry Tasting—evaporated before our now one-unscheduled-hour-older eyes.
Undaunted, we hustled downtown as fast as the subway would take us. The Javits center on this fine March day hosted the International Restaurant & Foodservice Show on its lower level. We obtained our press passes after some delay, and after cutting a rather self-important CNN reporter ("you don't need my name, just put down CNN") in line, and headed into the domain of the restauranteur.
It was laid out in much the same way as any other convention, rows and rows lined with innumerable booths of vendors hawking their wares and services. A great many of them were restaurant technologies and gadgets to make foodservice faster and more efficient. We photographed many things, though apparently, it's not permitted to photograph artsy porcelain service sets. Photos of these are issued by the vendor only…
The show also hosted the International Pastry Arts Competition—the very event whose delectable wares we were denied by the tyranny of railroad timetables—whose theme this year was "Under the Sea." Very prom-esque! We made a beeline straight for this area and were presented with such amazing works of gravity-defying confectionary that words cannot do them justice. I will allow ETL to provide imagery for your drooling pleasure.
1st Place – Wing Cheung, Grand Hyatt Hotel (New York) for his "Food Chain" piece. HintHint, it helps to have a well articulated concept to back your art: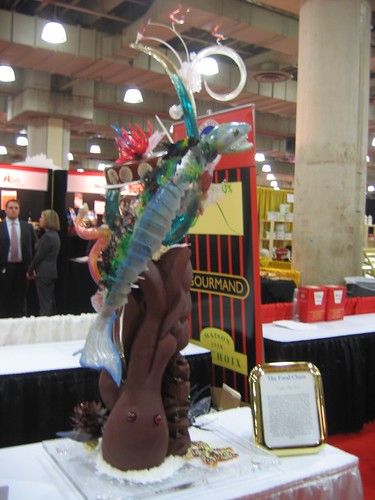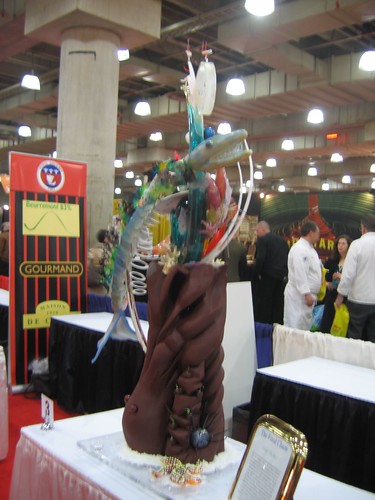 2nd Place – Anthony Smith, Cosmopolitan Club (New York):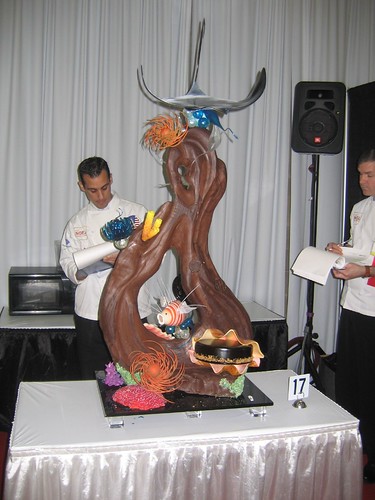 3rd Place – Salvatore Settepani, Pasticceria Bruno (New York):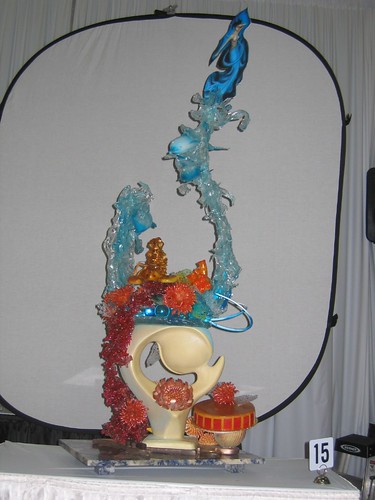 Screwed from the go: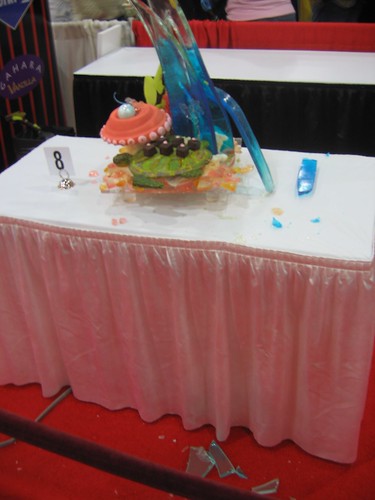 And now the complete, if somewhat blurry gallery (click through to originals):
After we ogled the edible art, we began making our rounds. The vendors present were wildly varied—offering all aspects of foodservice from organic ingredients, to ready-to-serve entrees, and from one of man's most ancient tools (the knife) to food-processing masterpieces, (the PacoJet). You may take some of these things for granted, but when you stop and think… Where DO diners get their signature tacky double swinging doors? Bags and take away containers, menu jackets, anything you might want emblazoned with your logo—where do you find these things? You can start here, at this NYC Expo. Catalogs and assorted schwag were passed out with abandon—if you don't need it, we can make you need it, and if you do need it, we can sell it to you.
Some of the standouts in our minds were Red Jack Orchards, purveyors of the finest apple cider I have ever tasted—the immortal souls of apples are seemingly snatched from the æther before they can make it to apple-Heaven, and distilled into jugs for our heathen enjoyment.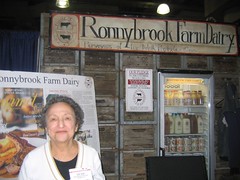 The Ronnybrook Dairy Farm also charmed us with its clever use of the sweetest old woman on Earth: As we ambled by, nearly full but happily snacking on some ice cream (Mine: Moose Tracks, ETL's: Blueberry), she enticed us over. "Do you like ice cream?" This is a silly question. "Would you like to try *our* ice cream..?" Again, silly! At this point, my hands are full of schwag from various stalls, and my cup of heretofore delightfully chocolatey and peanut buttery ice cream. "We have samples of… lets see… Ginger!" Neurons fire—ginger ice cream? Oh my. "I guess I'll put down my heathen ice cream here," I say with quiet shame. The sweetest old woman on Earth smiles and gently takes the offending container from me, adding conspiratorially, "I'll just throw that away…" The unfinished end of that sentence, and we can pretend it never happened hangs clearly in the air. Ginger ice cream is a revelation, my friends. Organic and homemade ginger ice cream takes that nigh unto the next level.
The New York City Pizza Competition also made its home here, and I watched an aged Italian man make a pizza before me, and of course, sampled the results. It was delicious, surely, but not significantly set apart from any other top-notch pizza.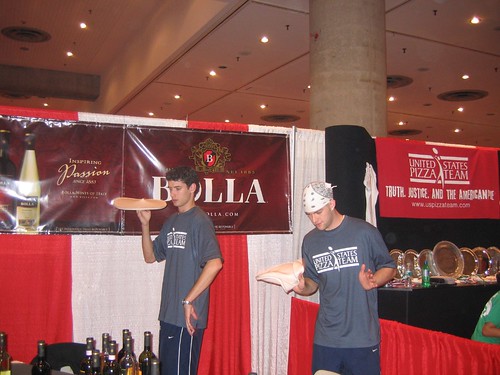 Test your pizza pie makin' skillz here!
Jonathan Lord pastries bestowed upon us some of the most delightful cheesecake I have ever had the joy to taste—not too sweet, creamy and smooth, and infused with vanilla and pumpkin and spices.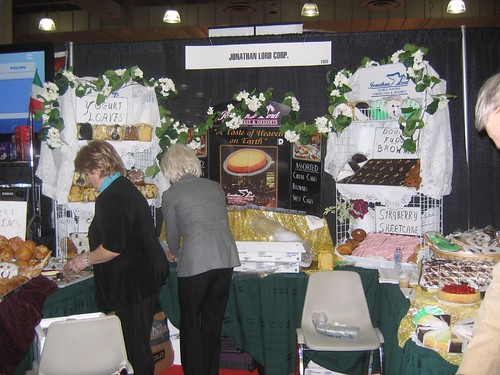 Jonathan Lord ladies scrambling to deliver us our sweets
We also met representatives from the Round Table of Food Professionals, which has a chapter in New York City, whose main purpose is to provide networking and education to budding restaurants and the like. They host classes and workshops, and meet-and-greets for your ladder-climbing pleasure.
We departed the show with great bags of schwag, cutting boards, ingenius folding grocery bags, citrus-fruit invasion devices, and many, many pamphlets. ETL will soon be awash in food-porn spam… I'm sorry about that, by the way.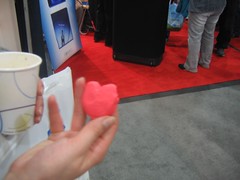 The food-porn spam wasn't as bad as eating Play-Doh. The all-edible and delicious context fooled me good.
All in all, the Restaurant and Foodservice Expo is definitely a top-notch event to hornswoggle your way into, and should not be missed. As I walked around, I desperately wanted to open my own restaurant. This has been a dream of mine for a long time, and the show has rekindled it somewhat—it's definitely daunting—but maybe someday it will happen. I will certainly be coming to this show next year, fondling that fucking PacoJet yet again.
---