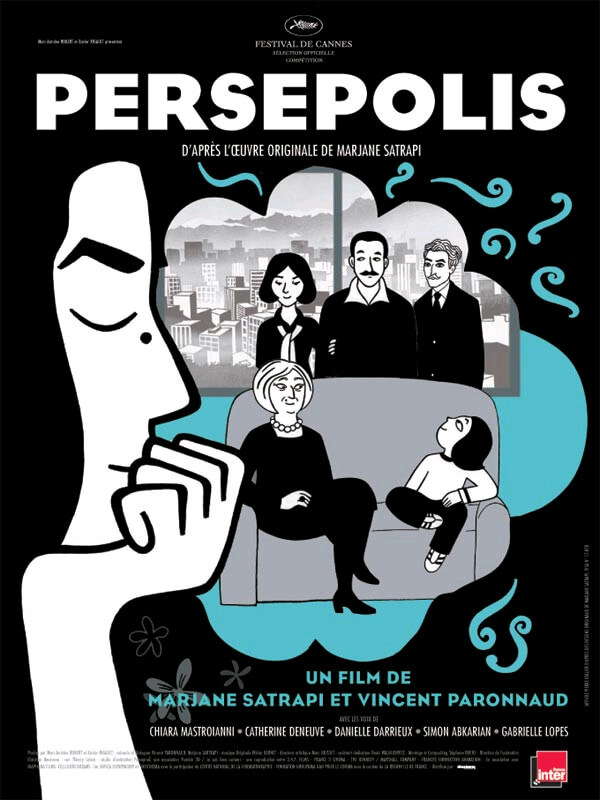 Yes, it is petty to find fault with a movie because it did not live up to the book, and yet I am going to do it. Marjane Satrapi's autobiographical graphic novel Persepolis has recently become an animated film under the same title and I grieve this development.
The 95 minute film is a conglomeration of powerful scenes from the graphic novel, which lose their strength and significance without context. I warn you now, spoilers are a comin'.
The film opens with Satrapi as a young adult in a Paris airport, reminiscing. The next 30 minutes or so are spent with Marjane as a young girl whose life changes instantly when a revolution shatters the Iranian regime under the Shah. From a child who believes she will be a prophet, and who thought that the Shah was chosen by god, Marjane eventually grows into an unsatisfied young adult who is disillusioned with a variety of ideologies and hopelessly searches for a niche in the world. Marjane is an intelligent child in an upper-class family of politically conscious intellectuals. She is given the best schooling, and access to whatever interests her: history, punk rock, Western movies, philosophy, religion, sociology, etc. As she grows up, she travels abroad, has love affairs, rebels, falls prey to depression, travels again. And then the movie ends.
After I finished reading the graphic novel, I was left with a nagging feeling that the main character didn't actually do anything with her life. The film brought this feeling to the forefront. Having have lived her life is supposed to be enough of an achievement. Writing a graphic novel which documents her adventures, and then having it developed into a motion picture is the pinnacle. Continue reading →