Event Date: May 18, 2011
Venue: United Palace Theater
Performer: Fleet Foxes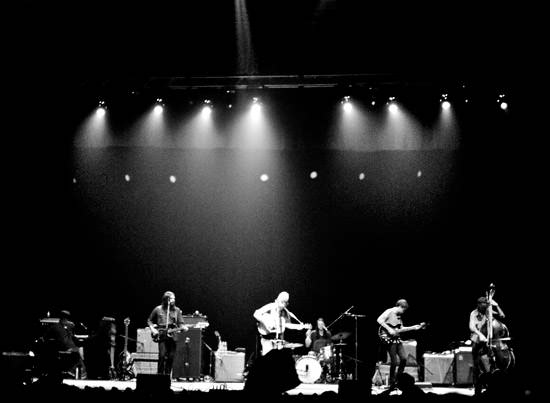 For almost every artist, band, or musician it is a dream to play the Big Apple when touring in support of an album. According to critics, Fleet Foxes' current release, Helplessness Blues, seems to be anything but a sophomore slump. If a double sold-out New York affair is any indication of their growing popularity, then humble beginnings will turn these young kits into full-grown foxes in no time.
The choice of venue for Fleet Foxes was the meticulously restored "Cambodian neo-Classical" United Palace Theatre in Washington Heights. The performance space melded perfectly with the organic-sounding 19-song folk set.  Appearing with no projections in the background, as if to perform for a high school recital, the timorous sextet walked onto the stage looking as if they just exited their rehearsal garage dressed not to impress, but to just jam for the electrified and intimidating New York audience.
Drummer, Joshua Tillman, was placed in the center of the stage while lead guitarist, Skyler Skjelset, and bassist, Christian Wargo, stood beside him at each side. To the left, and surrounded by multiple keyboards, was keyboardist Casey Wescott. Opposite Wescott and behind a cello was multi-instrumentalist Morgan Henderson, who is responsible for most of the band's arrangements. The last to appear on the stage was lead vocalist and guitarist, Robin Pecknold, who wore a skullcap that displayed the band's record label, Sub Pop.
The Oregon-based group opened with their acoustic song, "The Cascades", which sounded oddly reminiscent of "Blackbird" by The Beatles. However, in every respect Pecknold's tenor voice echoed of Graham Nash of folk-rock band Crosby, Stills, Nash & Young.
The audience remained calm and at times appeared hypnotized while lead singer Robin Pecknold sang with his eyes shut. However, once the band's intertwined harmonies stopped and the entrancing spell was broken, the audience took it upon themselves to wholeheartedly shout anything from, "We love you" to, "Take off your pants!"  They even went as far as giving the group a sustained robust standing ovation after the Helplessness Blues wistful opening number, "Montezuma". Continue reading →