The Knot and the Tying Thereof
We live in America, where numerous choices, endless information, and reality TV can ensure that any event, nevermind an important one, can become a complete nightmare.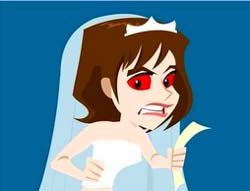 So when Beelzy finally grinned sheepishly and said, "Wanna get married?" and I nodded, we decided we were going to run away to Mexico to get the deed done there. Then we found out that you need a blood test and then have to wait around for several days, and the marriage won't actually count, so you still have to go to a courthouse or something in the states. We decided to elope  elsewhere.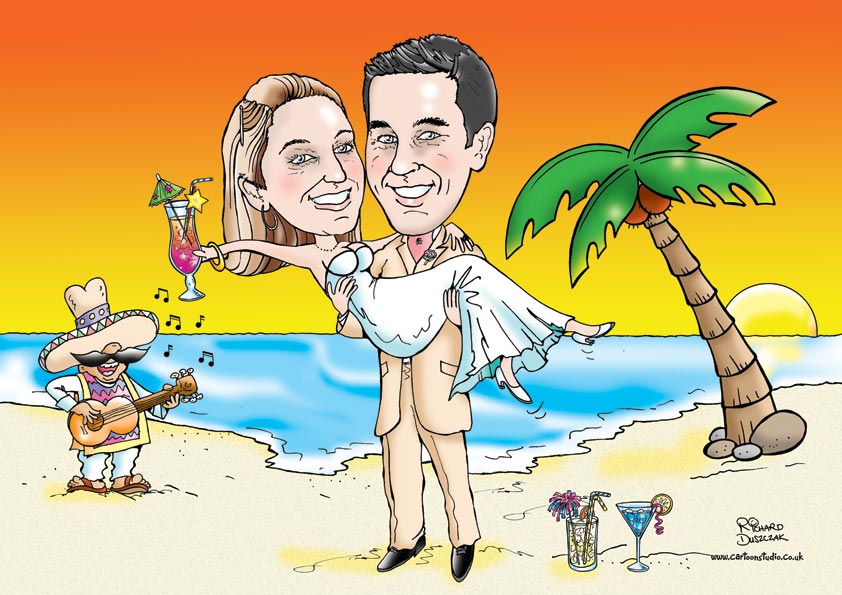 Even eloping turned out to be somewhat problematic. Not knowing very much about weddings, I turned to the Internet, and was given a variety of indirect advice by column writers. Eloping is all good and well, but the consensus was, that if you actually have people who give a single shit about whether you live or die, they'll be pissed that you sneaked off to get married and didn't even tell them.
So we told folks. Mom tears flowed a little, but at that point we decided to get married in the Smoky Mountains, in Tennessee, which is totally not close to NYC, and we didn't really expect anyone to want to drop a few hundred bucks just to get there.  Turns out we were wrong, and before long, we actually had guests. (Now I understand that weddings are excuses to throw all thoughtfulness to the wind and demand unreasonable things from people which will generally be acquiesced to.) And although on one hand, I started freaking out about what to wear, on the other hand, it was nice to know that on this day, which would be pretty important, we didn't need an innkeeper and photographer to be our witnesses.
The idea was that we would begin a cross-country road trip, and as we transition from New York to Oregon, we would also transition from living in sin, to a wholesome marriage. The end result was that we showed up in TN all fattened up on fried road food, with ridiculous tan lines and wrinkled wedding finery that we sort of failed to iron until the very last possible second. We also shed all the trappings of normal life by then, not worrying about all the everyday things, like cooking, cleaning, shopping, social engagements (except one), employment, etc. I'll give that to destination weddings: you get there, and it's all about just one thing, and that thing tends to be enjoyment.
The wedding was beautiful, and people who loved us were there to share it, and there was zip lining, and cave lookins. It was also a Christian wedding. Many of you are going, awh! That's nice! But here is a recap:
It's 10 minutes before the wedding and we are rushing out of our honeymoon cabin to go to the main lodge to speak to the minister. I am wearing something between rags and pajamas because Beelzy isn't allowed to see my dress. (We decided on that piece of tradition because we learned it from TV.) The minister isn't there yet. So then I rush back into the cabin to keep applying bronzer to my tan lines. The minister knocks on our door and Beelzy and I are there, anxious, half dressed. We explain that we know nothing about weddings and how they go. He started explaining about the process, which apparently only takes but 15 minutes.
"Don't worry. I will tell you what to say; I will tell you what to do. You just have to pay attention a little and you'll be fine. You will have to say vows before God, however, so I hope that is not a problem," says the minister, who maybe ran into heathens before.
"Do we have to? Can we just kind of… not do it, to God, I mean?" Says I, probably revealing myself to be an utter asshole at this time.
"This here is a Christian weddin'," says the minister, sounding a little more Southern all of a sudden to my more or less Jewish ears, "You did know that, right?" he looks at me expectantly.
"Umm, no, I didn't," I flounder…. Crap! Now what! I'm not really devout, pious, any of those things! Neither is Beelzy. God is gonna be PISSED. "Oh well, it's fine, I guess." I mean, really, what shall I do? Call the whole thing off? Demand a rabbi even though I've only played Dreidel once in my life, and probably did it wrong? Erm, no. Guess not.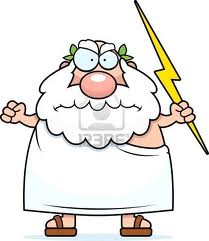 The minister visibly relaxed and continued with the usual script. Beelzy and I eyed each other nervously and as soon as he left I went back to the bedroom to fight with my dress, and he went back to arranging his suit in the livingroom, presumably pushing all thoughts of being struck down by lightning out of his mind as well.
The ceremony was actually very moving. Beelzy was so touched, he tried to put my ring on my index finger, and I couldn't seem to jam his on his finger for the longest several seconds of my life.
My voice sort of disappeared and I tried not to cry, and Beelzy looked at me with the kind of love reserved for a puppy that managed to get so tangled up in the bed sheets it could only squeak pitifully.
I actually have a bit of a blank spot in my mind about a lot of the ceremony. The minister said some really cool stuff, quoted the bible where it talks about love being patient and kind. I guess emotional amnesia occurred or something. And because we were truly a bit freaked out and didn't have a professional camera man following us around, there is no video of the event. I'm guessing it's better in my mind anyway, and with the years, the memories will only get rosier.
Then came the reception bit. And I will give advice now, so pay attention and avoid disaster: if you are having a small tiny wedding, even if you are eloping or at least think you're eloping, just make sure that the place you choose for the ceremony can provide a reception. Turns out, no place in the area was willing to take on a reception of a dozen guests. And no one in the state of Tennessee believes in reservations. I guess folks here are super flaky or something.
We called ahead to several restaurants, called in the morning, called after the ceremony, were told that of course they would be happy to have us. And then we got there. And were told they have no idea who we are and there will be a two-hour wait for seating. We finally settled on an Italian place… which, to be honest, was a step away from being a plain old pizzeria, and by then we nomaded it up so much that some of that happiness and excitement of "oh crap! Married!" kind of dissipated. Also, a lot of us didn't bring our ID's, and despite our obvious over-21-ness, we were mostly toasted with water and Coke.
Overall, a small wedding in the mountains is a great idea, and we had a really good time, but this was mostly because the ceremony itself didn't need to be the most important thing to ever happen in our lives. If you are of a similar mindset, then here is a list of things to consider when deciding on a teeny tiny almost elopement type ceremony.
1.    Budget. If you don't have a lot of money or don't want to spend your hard earned cash on a day's worth of festivities, instantly consider a destination wedding. Why? Because that cuts your guestlist down. A LOT. And you will be spending your money on a trip/honeymoon, rather than a day's worth of showing off to a room half-full of strangers. Whoever ends up hosting you wedding, just remember to ask a few questions about the actual ceremony, make sure there are pictures you can see of previous ceremonies, and make your religious affiliation, or lack of it, as clear as possible.
2.    Location. If you do decide you want a good number of people, have your wedding nearby, but otherwise, decide what works best for you. BnB weddings are pretty cool since the honeymoon suites tend to be really really nice and if you're into nature, they're totally good for it. Also, your wedding is basically planned out for you and you have a price tag that is not crazy at all. You might want to check to see if guests are allowed, and if you do have a certain amount of guests, are there any perks the BnB is willing to throw in? Such as hosting the reception.
3.    Announcement. Tell people about your plans, probably at a party. It's hard to say when to tell folks, but it's a good idea to do so AFTER you make a deposit and absolutely know what you want for a wedding. Otherwise folks will start to give good-natured advice on how it would be way better to do something else. Give folks about a month and a half to book plane tickets if you are extending an invitation.
4.    Reception. As I mentioned, even if you are giggling with your fiancée about how you're just gonna run off to Vegas and get Elvis to marry you, consider having a reception anyway. Elopements are tricky business, and unless you are very young, truly don't think anyone cares about you, don't care too much about others, or are on your second or third marriage, it's possible that your elopment will change into "an intimate wedding." When you're looking for possible venues, try to choose one where you can always add a dinner if you need one, and one that includes cake, because cake is delicious :).
5.    Wedding Finery. This kind of goes back to your budget. Beelzy and I were
going to rent whatever was available in the nearby town, but renting a tux for a few days costs the same as just buying a nice suit. Wedding dresses are totally available for rent, but I just went out and bought a dress I liked, that had absolutely no pearls or diamonds sewn into it, and the price was comparable to just renting a dress. In the end, don't let pop culture dictate how you should feel or how much money you should spend on what is basically just clothes you will wear for a day. If you want to be a princess, go for it, I totally felt like one :) Also, make sure to know in advance where you could go to get your hair and nails done. I kinda screwed that one up a bit too, but it all worked out eventually.
6.    Rings. Oh man, so much info out there on this. Engagement rings are a big deal, but wedding bands aren't really. However, society, once again, expects you to drop a lot of cash in this niche. We didn't do the engagement ring, and since we couldn't figure out if we should elope or not, no one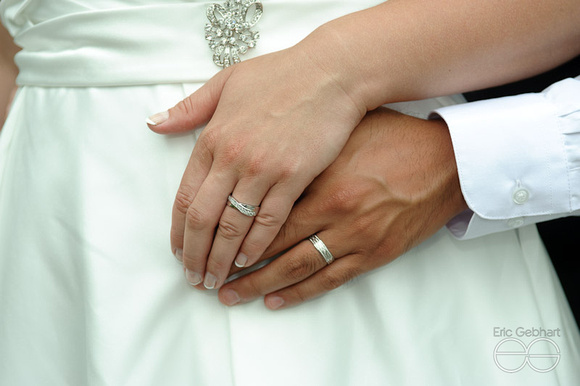 knew we were engaged for about 6 months. When we went to get our wedding bands, I did get a little vain, so mine has little diamonds in it. Just decide what you're willing to spend on them, and then wander around jewelry stores and present that figure before anyone tries to show you anything.
7.    Activities. If you're not spending all day getting gussied up, and didn't spend the night before getting shit-faced, check out the surrounding area for fun stuff you can do with your fiancée and/or the wedding party that came aaaaaall the way to wherever the hell you decided to get married.
***
Just remember: it's about what you want, what you are comfortable spending, and what works for both of you. Weddings and everything that has to do with them tends to turn into this runaway monster, where an entire industry is telling you what you need to do and what it takes to do it right. Turn off the TV, turn off the computer, sit down with your significant other and write down some options for what you want out of this one day, this one important day, that's supposed to just be about the two of you.
---