HIM at Irving Plaza
Date: May 7, 2010
Venue: Irving Plaza
Bands: HIM, Dommin, We are the Fallen, Drive A
I can't remember when I first heard that HIM, the self-proclaimed "love metal" band from Finland, were making a return appearance to New York in support of their new album.  What I DO remember, is how I felt.  Ask anyone, and one of the first things they'll tell you about me is that I'm a HUGE fan.  HUGE.  As in I proudly display 6 HIM-related tattoos on my person.  But being a HIM fan isn't easy, because, same as most bands, HIM has had more than a few trying times. Both their last album ("Venus Doom") and last NYC tour date left much to be desired.  So, even though I'd fallen in love with the new album ("Screamworks: Love in Theory and Practice"), I was still worried about how the tour would play out after the previous disillusionment.  That's not to say that I thought about skipping the show!  On the contrary, I bought a ticket as soon as I could and another ticket once extra dates were announced (there were three NYC dates in total, but this girl has gotten a little too old to withstand 3 straight days of rocking).  I knew the proof would be in the pudding and I was ready for a taste.
One thing that tends to happen when this band tours the States is that they get teamed up with opening acts that don't exactly mesh well, sound wise.  Most fans are usually left scratching their heads or throwing the finger at said openers (I'm shamefully guilty of doing this in my younger days).  Thankfully, FINALLY, that track record has been broken and I was extremely pleased with the opening band selection.  While not excited by all of them, it made SENSE that they were opening for a band like HIM.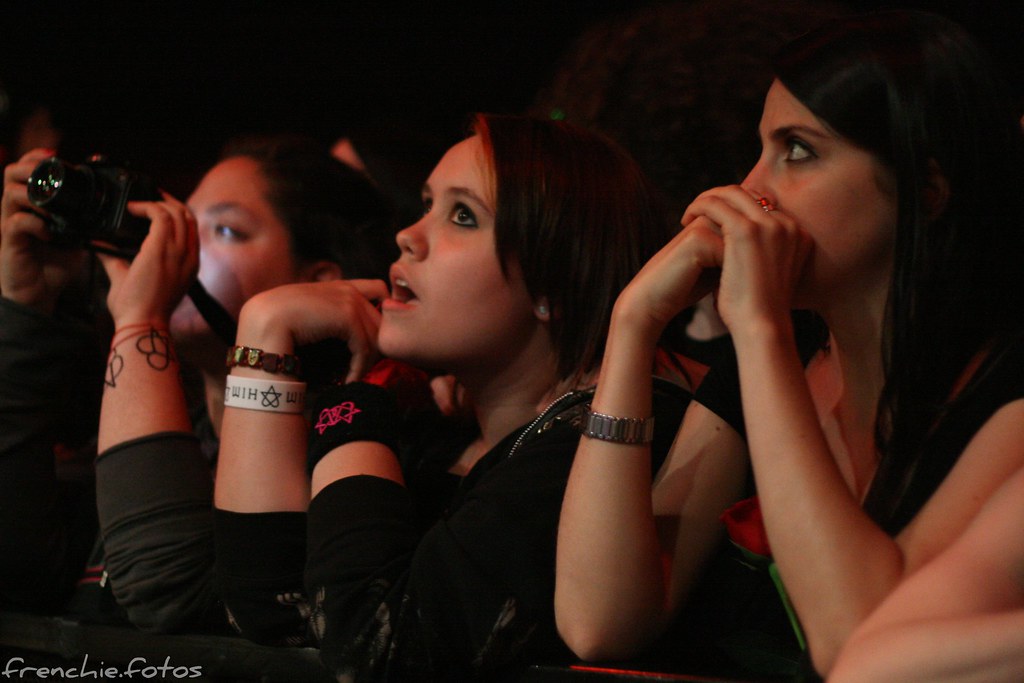 My fellow fans
First up was Drive A.  I'm not sure what I can really say about them other than that they certainly try hard.  Their sound is reminiscent of early Green Day except…not as good.  I hate to say it, honestly, but I think they need to find a sound that comes more naturally to them.  Time will tell.
Next was Dommin.  A good friend told me that I'd love them and I admit that I enjoyed what I'd heard on their MySpace page.  A little healthy skepticism is always good though.  Having seen them live, I can happily say that Dommin rock!  Not only do they rock, but they do so in a beautiful lead up to HIM.  I DID fall in love with them.  I also appreciate that, at a certain point during their performance, they handed out roses to audience members; every band has to have their "thing", right?  Their sound is a credible mix of The Cure and general 80's synth.  One of the major highlights of their set was their cover of Cutting Crew's "I Just Died In Your Arms Tonight".  My age may have shown as I screamed a little louder than I had before.  Could Dommin be picking up the "love metal" mantle?  Maybe.  If so, I heartily approve and look forward to seeing them again.  Be sure to check out their song "New" on their Myspace page and, if you like what you hear, buy their album for only $5.
The last opening act was We Are The Fallen. I fully expected to love them as well, as I'd learned that the band consisted of an ex-American Idol contestant and the remaining members of Evanescence.  I was wrong.  It's not that I DIDN'T like them. In fact, I dug them to an extent, it just seemed that the sound of this new band was too much like the band it was formed from; I didn't detect that any evolution had occurred.  My general feeling?  New cook, same recipe.  The lead singer does have a great set of pipes, that I can say, but I also felt there was a lack of connection between band and audience, in that the audience was into the sound while the band was somewhat reserved.  Do take note that their cover of Madonna's "Like A Prayer" was my favorite part of their set and is worth consideration.
Then, true to form, it was finally time for HIM to take the stage…at 10:07pm rather than the listed set time of 10:15pm (the band manager has a superstition about the number "7").  I made my way into the photo pit and prayed I wouldn't have a nervous breakdown at seeing the man, as well as the band, that mean so very much to me.  There was shaking and sweating involved, but I stoically managed to get the job done.  I'm sure the security guards had a good laugh at what happened later though.  You know those fans you've seen crying in Michael Jackson's "Man in the Mirror" video?  Yeah, that was me, surrounded by fans ranging from 7-60 yrs old. I'll get to the why of said crying later.
One of the first things I need to mention is that this was THE BEST I've ever seen Ville (vox) perform, ever, and I'd seen this band seven times prior to this night.  When even a die-hard fan is impressed, you know magic is happening.  Everyone was in top form: Burton (keyboard/piano) was even giving unexpected solos I hadn't seen/heard before.  Along with displaying their craft to perfection, the band was also in an incredibly jovial mood, which certainly rubbed off on the audience.  Jokes were cracked (FYI, bassist Mige misses cues due to being bashed in the head, the roadies supply masturbation towels, and Ville's imaginary friend is Dracula) and vocals were…well, vocals were beyond amazing.  I'm guessing the members of HIM are quite aware of the chilly reception that "Venus Doom" received, because the set list contained only one song off the album (the dance-worthy "Bleed Well").  Instead, fans were treated to a perfect mix of the rest of their back catalogue, primarily songs from "Razorblade Romance" and "Dark Light," along with songs from their most recent album.
While I'm somewhat disappointed that they didn't play "Katherine Wheel" or "In Venere Veritas," anytime I get to see these Finns cover Billy Idol's "Rebel Yell," I can't help but be grateful. It gets everyone moving and singing at the top of their lungs, something that any band loves seeing.
Then there's the crying thing. Okay, I love the song "Funeral of Hearts," but it's by no means my favorite. If they left it out of a set, I wouldn't cry foul or anything. However, a new arrangement had been made for it and Ville sung with such precision and emotion that the only word to describe it, in truth, is "epic." It destroyed me and brought the entire crowd together in a mass of awed, swaying bodies. Few bands, in my opinion, can stand the test of time and STILL continue to do their back catalogue justice. Too often, they try to tamper with a good thing and ruin it instead.  This is a fate that HIM have somehow avoided.
Other highlights definitely include their performance of "Like St. Valentine," "Buried Alive By Love," and their FLAWLESS cover of Chris Isaac's "Wicked Game" that was longer than usual and had some insane Linde riffs.  There was also some sort of a twang to it, almost like sitars?!  It was truly inspired.
As a fan who's been disappointed by a live HIM performance in the past, my relief knows no bounds that they've returned to their former glory.  If you have a chance to see them, please do so.  They're back with a vengeance and here to show everyone that the musical genre they created is just beginning.
---
Links
We Are The Fallen:
Myspace
Home