Enter the Asylum: Long-Awaited Emilie Autumn, in NYC
(Editor: I screwed up the passes so our awesome photographer, Frenchie, with her DSLR camera, couldn't take pics. These are shots with a regular handheld courtesy of Thomas. Thanks man.)
A long line stood outside the Highline Ballroom on the night of October 13th, 2009. They weren't waiting for a concert, however…they were waiting to enter the asylum. Emilie Autumn fell upon New York City with all of the grace and costumed pageantry that one would expect of a young woman from the Victorian Era.
The stage was adorned with everything one would need for a tea party at the asylum. Cakes, cookies, tea pots, dolls, skulls, and rats, all lit by candle light, created the perfect atmosphere for the macabre performance still to come. As the lights dimmed the enthusiastic screams of dozens of wayward girls filled the Highline. Their long wait to see Emilie Autumn on her first ever North American tour was finally was over (this after a cancellation months ago).
Each of Emilie's Bloody Crumpets made their way onto the stage one by one. First the petite, but fearsome, Captain Maggot appeared followed by the trigger happy Aprella. Naughty Veronica, the timeless beauty, then appeared along with The Blessed Contessa who just happens to enjoy the taste of human flesh. Then, finally, the delightfully mad Emilie Autumn entered to the crashing intro of "4 O'Clock."
The show that Emilie and her Crumpets put on isn't so much a concert as it is a theatrical performance. Each song is presented with an act that is appropriately choreographed based on its theme. The seductive Veronica entertained the crowd with a fan dance during one of the song breaks and if all of the onstage theatrics weren't enough Capt. Maggot and The Blessed Contessa both performed their own aerial dances on two apparatuses hanging above the audience. There was also some audience participation including "The Rat Game," in which a young female member of the audience was chosen to receive her first same sex kiss provided by Naughty Veronica. It should also be noted that there was much intimacy going on between the Bloody Crumpets during the show.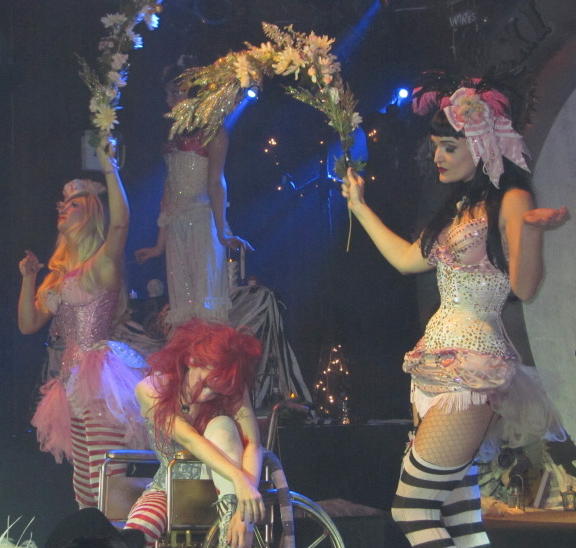 The set list was made up almost entirely of songs off of "Opheliac," including Liar, Thank God I'm Pretty, The Art of Suicide, and the album's title track. Near the end of the show Emilie, along with her Crumpets, performed a cover of Queen's Bohemian Rhapsody. For those of you who aren't familiar with Emilie Autumn's music, she mixes a variety of genres to create her "Victoriandustrial" sound. The majority of her songs include her harpsichord or her signature violin; both of which were ever-present throughout the performance. Unfortunately, her music has a much larger following outside of the United States leading to the majority of her tours and albums to be European exclusives only available in the U.S. by import. Don't fret, though, as this will soon be remedied.
This was easily one of the best and most unique concerts I have ever been to. I urge anyone who has an interest in Emilie's music to make an effort to see her perform. Also make sure to hit up the stores for her soon to be released book "The Asylum for Wayward Victorian Girls" as well as the new two-disc North American re-release of "Opheliac."
---
Links for your visual.auditory pleasure: