Repo! The Genetic Opera: The Interactive Experience
Event: Midnight Surgeons Repo! Shadowcast
Venue: Multi Media Arts Center, Bloomfield, NJ
Date: March 21, 2009
D42 often sends me random links to things she finds during hours of aimless internet browsing which she calls work. One of those links led me to a trailer for "Repo! The Genetic Opera". From that first viewing, the wait began for the eventual limited release of this film (I again thanked the gods that my parents chose to immigrate to New York City some fifteen years ago.)
Yeah, I knew it was gonna be fun, I knew it was gonna be great, but I didn't realize that it would rouse a following akin to Rocky Horror. I didn't suspect all the fanfic it would generate, nor did I think the show would go on the road! Of course, all these things happened anyway.
One of the results of "Repo!"'s success is the Midnight Surgeon's Repo! Shadowcast. These guys came all the way from Philadelphia to add to the film their own, often quirky, interpretation. I've never seen anything like this before, and if you're a shadowcast virgin, you should know that the idea is to have the movie playing in the background, while you and a bunch of your friends dash around in costumes and act/sing along with the bits you really liked. I bet it was a lot of fun to do. It was certainly a lot of fun to watch.
The shadowcasting experience, callbacks and all, was initially the idea of the actors/creators, Darren Lynn Bousman and Terrance "Graverobber" Zdunich.  Repo! went on the road sometime last year and then again this year and is now on the road in Europe. Before gracing Europe, they graced New Jersey (and yeah, I missed it). Their appearance motivated a theater troupe and various other creatives to pitch into the idea for a Road Show, with the blessing of Bousman.   The entire Road Show ended up being canceled, but the Road Show at the MMAC was all ready to go and so it went. Not very far, as it was a one-night affair, but well attended, and much appreciated. As Repo! is supposed to pop up in theaters around the country periodically now, I'm guessing so will people willing to dress up like the characters and yell rude things at the screen.
The show was to start at about 11 and apparently some of it sort of did. We showed up a little early to make sure we had seats and then stood around in the lobby until about 11 30 listening to someone (Matthew Gerber was his name I found out later) strum on a guitar somewhere out of sight. Finally, we were ushered into a small theater space, took our seats, and began to blind everyone with flashes from our cameras. We were surrounded by costumed genterns, the whole Largo family, and a good amount of other oddly dressed folk whom I didn't recognize from the movie.
Dean "Hellbound" ten Eicken, the MC, rushed out before us and began speaking into a dead mic. He attempted yelling but was quelled by an audio technician who insisted on fixing whatever was malfunctioning. A generous carny rose to the occasion and entertained us by having his tongue stuck in a mouse trap (which he, with great foresight, carried in his pocket)
All was finally well and then several ladies in very small skirts (Space Pirates:
Jordana Dlugacz, Danielle Kane, Maegan Holub) and a large man wearing a humorous hat and a lot of cellophane (Space Man: Brendan Murphy) came out to perform Dr. Steel's "Planet X Marks The Spot". They were later joined by a very gothy person with loads of pony tails, a cape, and a wondrous expression (this was indeed an Alien, played by Aniello Coizza ). They were the The Zydrate Enthusiast Network and they were excellent.
We were then treated to the stylings of two lovely ladies from the White Elephant Burlesque Society who performed select Repo! sets all the way down to their pasties. Lily Stitches grinded and harassed a male counterpart to "Come Up and Try My New Parts."
Next, Regina Stargazer winked and twirled in a very Marilyn Monroe way to "Thankless Job."She finished the show by ripping her heart out of her chest and throwing it into the audience. Beelzy caught it. He still has it.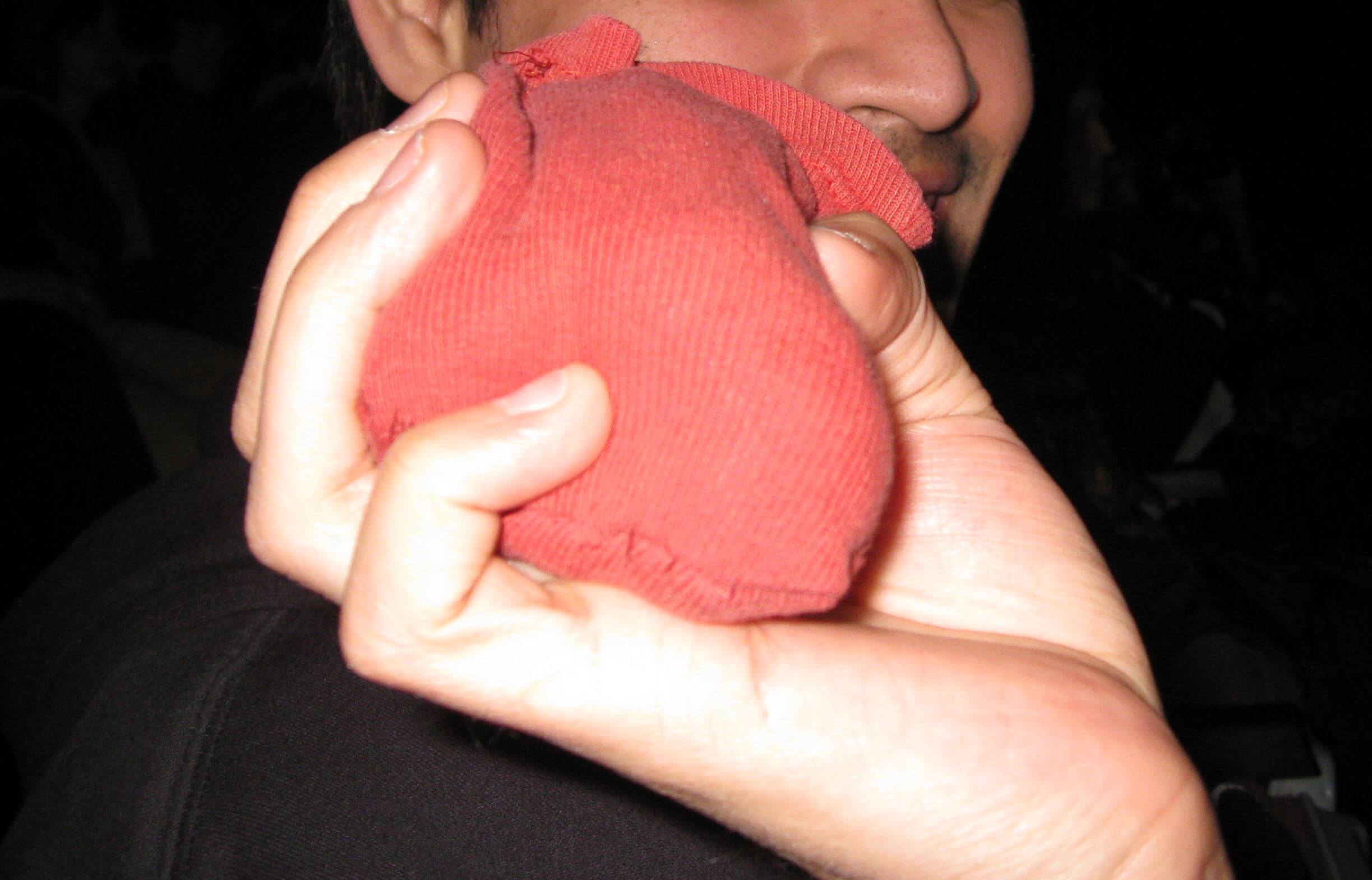 Sometime around midnight we were treated to the main event. The movie began as did the hooting and the screaming. Everyone's head was in the way of the projector, which hardly detracted from the general mood of hilarity already in the air. Genterns wondered around making sure everyone was comfy.
The Midnight Surgeons are a dedicated cast and performed flawlessly. Nathan Wallace, aka the Repo Man, played by Paul Clark, successfully chased down and eviscerated his first victim, played by Brendan Murphy (who continued to be victimized any time a victim was needed). Murphy ran squealing around the stage, holding on to his tiny skirt, but he didn't have a chance, and finally a random brain was extracted from his still beating chest.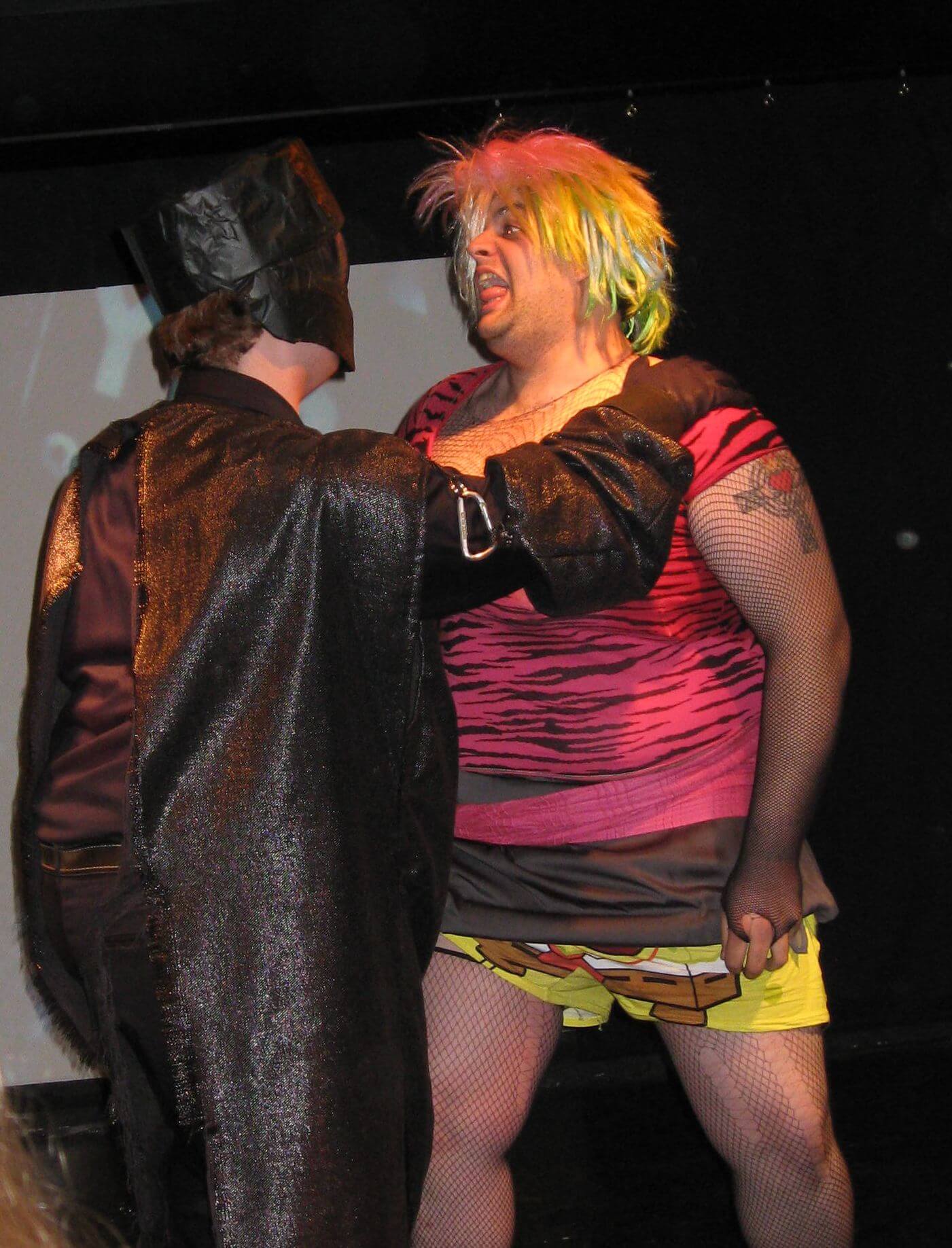 Shilo, played by Sonia Goldberg, continually choking on her wig, met the Graverobber (Ian Staer) who of course had to rob GRAAAVES until they were captured and nearly repo… -ed. Rotti Largo (TJ Dulca) was a bit glazed over, but Pavi ( Maggie Lee) and especially Luigi (Kristin Kitts) were absolutely insane.  Amber Sweet (Bianca Nera) was not so sweet indeed, and oh, when her face fell, you couldn't help but tell. Blind Mag (Thain Wood) put on a perfect performance—one  of the few characters on stage untouched by farce. The Hench Girls (Jessi Davis, Mercy Van Vaulkenberg) did their quiet Henchy thing and continued to be in the background even during the final bow. Genterns and various Z-Addicts (Janelle Barry, Tori Applegate, Jordana Lewinter) were scantily clad and very nice to look at and therefore played their parts very well.
The show ended around 2am. The cast were gloriously sweaty and overall very cheerful. As well they should have been! They managed to perform an entire movie with a few random props and nonstop costume changes. The whole affair was pretty much the opposite of going to the movies. Everyone was yelling call backs, singing along with the songs, and stomping their feet. The audience was just as big of a part as the movie and the shadow cast. We walked out of there exhausted but exhilarated, with various Repo! songs stuck in our heads.
(You can watch the whole performance, in bits, here.)
Special thanks to Noelle Facchino  for hosting the event and providing me with info. Also thanks to Frenchie for a lot of the great photos in this article.