Weird NJ Movie Madness
Since relocating to New Jersey in September, I began to experience mild ennui. I've taken to coming home from work to flop on the couch and eventually fall asleep in front of People's Court or a similar attack on my brain cells. Then Beelzy called and told me we're going to a Weird New Jersey party, part of the newly established Reel New Jersey Film Festival (LINK)
You may have read one of the Weird NJ magazines or even saw the offshoot of that project on the history channel: Mark Sceurman and Mark Moran hosting Weird U.S. If this is all new to you, just know that Mark and Mark think of their venture as "your travel guide to New Jersey's local legends and best kept secrets." It was once a more underground movement, with secretive trips to abandoned mental institutions and the like, but has become fairly mainstream in the past few years with corresponding events such as this large-scale Midnight Movie party.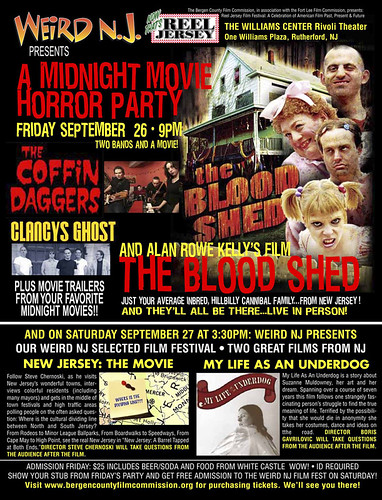 The event started around 9pm and we were among those guests who choose to be on time, rather than fashionable late. Therefore, before we even got inside we snapped this shot of Mark Sceurman and The Sissies
The Williams Center in Rutherford, NJ—where the event took place—is a mixture of past and present. Sometime in the 20's the entrance area burned down and so upon entering we were greeted with a modern décor expected of large movie theaters. The innards of the place consisted of a venue and large dance floor on an elevated platform as well a full sized movie theater down below. All hardily air-conditioned.
A panel was installed to photograph the local celebrities in front of, as well as a red carpet to add atmosphere to the event which included the screening of the locally produced "The Blood Shed", summed up in the flier as "just your average inbred hillbilly, cannibal family… from New Jersey!" We got a glimpse of Alan Rowe Kelly, writer and director of the film as well as one of its stars. He played Beefteena, the "little girl" of the Bullion family.
With the entry fee of $25 we were to get all the White Castle burgers and Anheuser-Busch beer we could stand, so for the first hour or so we browsed the array of Goths, geeks, obese housewives, small children in eveningwear, and still stranger characters while stuffing our faces. The Coffin Daggers, and later Clancy's Ghost played for our enjoyment.
What do "Confessions of a Psycho Cat", "Color Me Blood Red", "The Amazing Transplant",and "The Curious Dr. Humpp" all have in common? The answer to that question is: explicit soft-core pornography coupled with violence and gore. Some other running themes are topless girls hopping around bunk beds in mock terror of prowling gorillas, murder by breasts, oh and murder by sex, and cannibalism, and sex with cannibals and overall, endless pubes. This was the promised hours and hours of movie trailers from midnight movies of yore.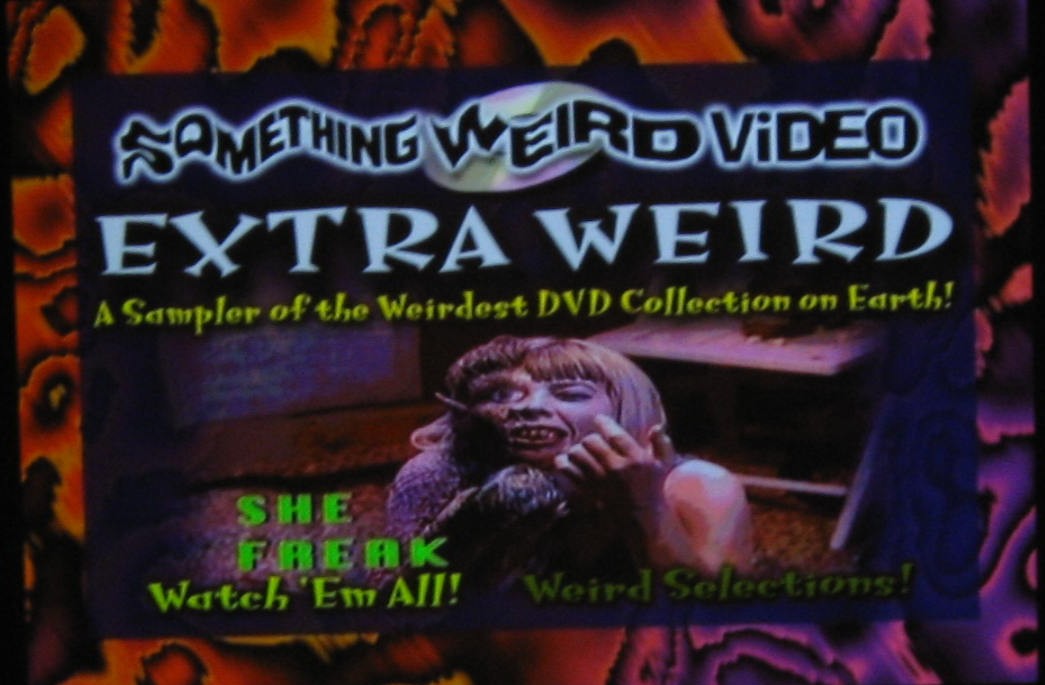 We spent hours watching nipples and buttocks and as I already mentioned, pubes, shot from odd angles in black and white. I only go on about this because after spending some time on the floor harassing a caveman and The Sissies we retired to the theater seats downstairs and settled in to watch whatever naked bits covered in blood they had to offer.
After snapping this shot I asked if he perchance had a car parked outside, to which he nodded.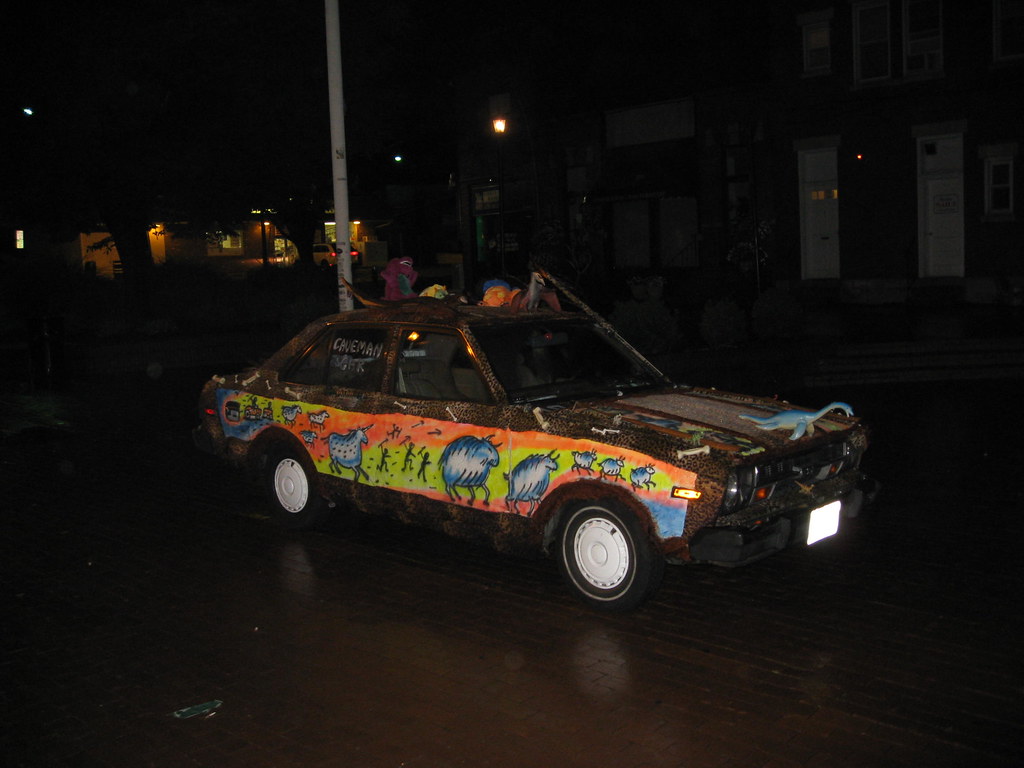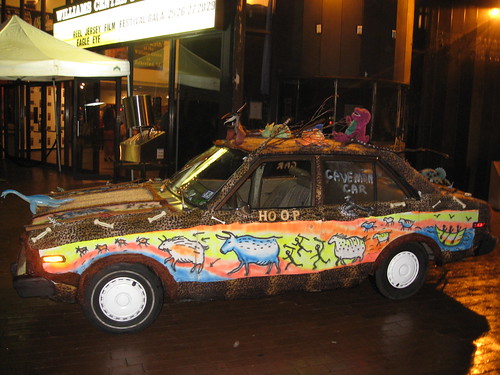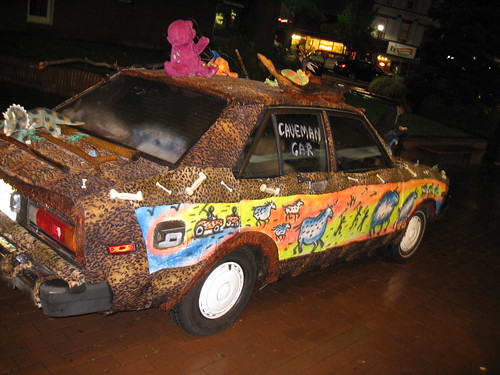 (I obviously loved his car)
Around 11:30 some words were said up above about the premier of "The Blood Shed." To be honest I was at this point huddling with Beelzy for warmth and napping a bit. We stayed through the movie, which I hope was introduced as the New Jersey version of "American Gothic", because otherwise it was a rip-off of that film with some "House of a Thousand Corpses" thrown in. I enjoyed it until I fell asleep, then woke up and shivered through to the bitter end. Since this was a modern film, genitals and pubes were kept out of sight and gore and sexual innuendo took the place of actual smut. It was a deliberately awful production, so I don't think anyone walked away disappointed.
A fun event that will hopefully suck me further into the Weirdness that New Jersey has to offer. It better, because I'm starting to miss New York. Maybe I'll see how Bill Zebub is doing.
---
Moooorrrreeee Weeeeirdies: