Previously on LOST: The Live Experience
Show date: June 1st
Venue: The Knitting Factory
Band: Previously on LOST
Many different forms of entertainment have inspired songs, or even entire bands about them. The Harry Potter books started the band Harry and the Potters, The Gothic Archies have lyrics inspired by Lemony Snicket series, "A Series of Unfortunate Events" (although that one may not count as much, as the author is in the band), and there are multiple bands who sing entirely in Klingon. Now there is Previously on Lost, a band that writes songs about the show LOST.
Each song they have written summarizes an episode from season four of the show, giving birth to a genre that has been coined as "Recap Rock." Their songs have an upbeat tempo to them, which makes for catchy tunes that you may hear yourself humming after you listen to them. When I heard they were playing on at The Knitting Factory in the city, I figured there were worse ways to spend ten dollars (as I usually learn whenever I eat at White Castle).
Atmosphere was a big part of the night. Upon entering the main bar, everyone was given a leigh. The stage was decorated with inflatable palm trees and a cardboard cutout of a hula girl. The only way things could have been more island-themed is if there was sand on the floor. The show began with a cardboard plane being carried from the back of the room and crashing into the stage. The two singers of the band then came out and mercilessly pummeled aforementioned plane, and went right into the first song. It was small touches like that, and the songs themselves that made the show memorable.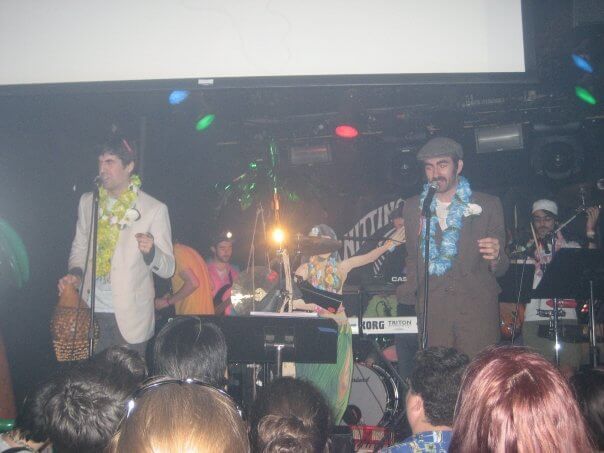 Tropical
Fans of the show will enjoy the songs as they not only summarize the episodes, but also poke fun at some of the plot holes and odder parts of the show. For example, the song "Just Wink," has a line that goes "Lost on an island, we're low on supplies and…well not really, and we have TONS of guns." Anyone who has seen at least one episode has no doubt noticed these things themselves.

"Be My Constant"
As for the band itself, it was a spectacle. There were at least seven people on stage at all times, with more people coming on to play saxophone and sing backup for some songs. And this large crowd, on the cramped stage, played at least two instruments each. All played well too, including a theremin, which up until this point I didn't think could be played properly without the use of a third hand.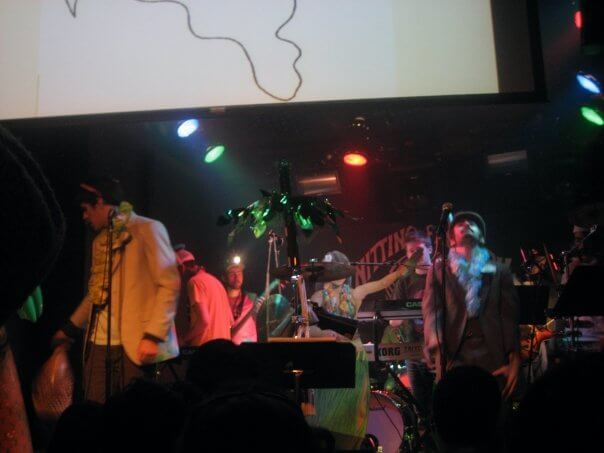 This picture only shows HALF the band
Above all, it was clear that they were really enjoying themselves on the stage, and that was passed on to the audience. It was common for them to ask the audience to participate in the songs, dancing, or having everyone scream "WALT!" at the top of their lungs. They even recorded the last song of the night live recapping the deaths at the end of the season, with everyone in the audience singing the chorus. To end things, members of the audience were asked up on stage and then crowd surfed to the back of the room, followed by the band members one by one until only the two singers were up there.

"Hams to Yourself"
Overall, it was a very enjoyable, high-energy performance that I would recommend to people who aren't even fans of the show. Besides, what other concert will you ever go to where they give out cake at the end?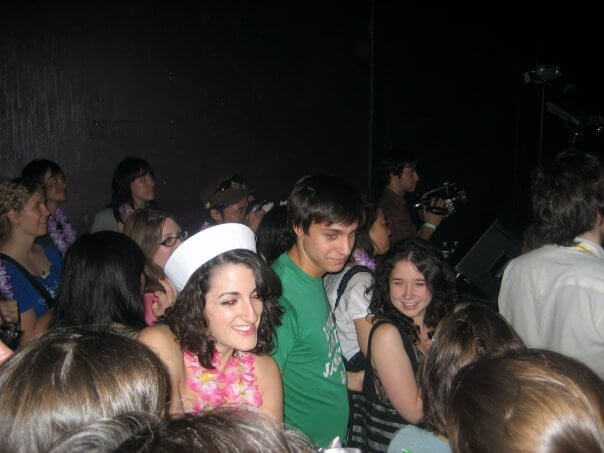 She has cake, trust me.
After the show, I briefly got to talk with Adam Schatz, one of the lead singers. I asked if they would continue with season five recap songs. And because I am a terrible journalist, I forgot to bring a tape recorder or at the very least write it down what they said. So this is a paraphrased answer. He basically said that season four was perfect to recap because of the writers' strike, which made it shorter. Each song took the group about four days to compose, from Thursday to Sunday, and to do that for a full twenty-plus episode season would be exhausting.
While it seems that Previously on LOST have written their last songs about an island where not much makes sense, there is good news. He did mention that recap rock is something they all really enjoy doing, and they hope to move onto making songs about other shows. Although there was no mention of a specific show, I am eagerly awaiting their next project if it's going to be something of this caliber.
---
Previously on LOST can be found at their myspace
E-mail Fly or check him out on AIM @ FreshGoesBetter