Final Fantasy 8 Sucks: A Review That's Too Damn Late
I'm going to break my usual tradition and write about something mainstream today. It'll come as a shock to most of you, not reading about some obscure ROM about gay sex. We'll be back to that soon, don't worry.
Like most of you nerds out there, I play video games in my spare time. I read the reviews and see what's good and what sucks, and throw away all reviews that say "OMG THE GRAPHICS SUCKZ." I grew up with Atari. I can deal with bad graphics; I could really care less if the main character is a blue dot or a fully rendered 3-D model of Estelle Getty in the nude (which would of course be the hottest thing ever). Sometimes though, reviews are just so wrong that it makes you want to hunt down the person who wrote it and burn crosses on their front lawn. This has happened to me a few times, but there is one game I loathe so much that to this day I still hate those bastards the gave it a positive review.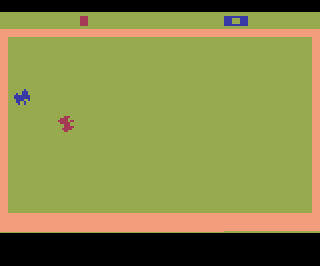 But when Atari tries to render Estelle Getty, it just isn't the same.
It's a well-known fact that a lot of fanboys have hard-ons for the Final Fantasy series. They'll buy anything closely associated with it, from T-shirts to sex toys. So whenever a new one comes out, magazines and on-line sites hail this as the second coming of zombie Jesus. Everyone eats it up and Square laughs, counting their money. As for myself, I've been playing Final Fantasy since back in the days of the NES, before there was even a plot. So I know the games can be good, even with the weaknesses they all share, so there's no need to e-mail me talking about how the game consists of pressing one button until you win. I know. I hate it myself, but for some reason I can't stop.
If you haven't figured it out by now—either because you were too stupid to read the title or came across this article looking for fanfic—I can't stand Final Fantasy 8. Absolutely the worst game I've ever played, and that's saying a lot since I openly admit I own Donkey Kong Jr. Math. Now, FF7 wasn't a bad game. It's not the greatest achievement man has ever accomplished, as any typical 14-year-old will tell you while screaming at you in their best caps lock voice. I enjoyed FF9 too, even though it isn't as widely praised. So what went wrong when they made FF8?
You're probably wondering why I didn't write this years ago, before more sequels and spin-offs were made? Back when the game was still new and I could have saved you horrible monsters some money. Well, first of all, those days are a bit of a blur for me and I'm also fairly certain this site didn't exist back then. The main reason I haven't spoken out about this travesty is that it angered me so much, that for a while I just couldn't get out the words to express my hate for it. The whole thing left a bitter taste in my mouth for years. Unfortunately, I'm also one of those people who just have to finish something they start, so I played until the end, because I clearly hate myself. So don't bother e-mailing me telling me it gets better. I know it doesn't. Oh, and if you find any mistakes in this review, go fuck yourself. It's been years since I've played the game and I refuse to put it back in my console, for fear of complete corruption, even if the purpose is to make fun of it.
So let's take a look at some of things that made this game into the travesty it is.
God I hope these characters are better than the whiny goth protagonist

Yeah, that's right. Squall, the "hero" of the story, is just a dog collar and slit wrists short of being a full-out goth. And whenever he talks, it's usually to complain about something. Not that I blame him, if I was stuck in a game as horrible as that, I'd complain too. His only redeeming quality was in Kingdom Hearts, but I have a suspicion that that was due to the fact he was voiced by David Boreanaz, who just breathes badass. Amazingly enough though, he's not the most annoying character there is, there's a whole roster that spends every moment competing for the spot of who I want to stab with an ice pick the most. Let's take a look at the ones who come to mind.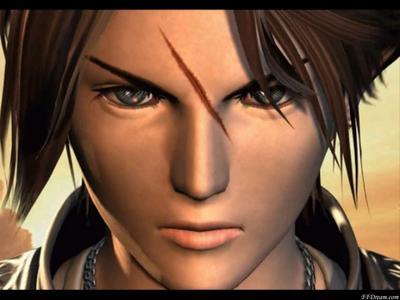 Craaaaawling in my skinnnnnn.
Rinoa
I hate this bitch. You ever have a friend who gets a girlfriend who ALWAYS needs to be with him? She's controlling and manipulative and constantly belittles him? And your friend is the only who doesn't notice that she's a controlling bitch? That's the whole story of Rinoa, except somehow, she manages to be more annoying than that. All she does is talk about Squall most of the game, and no one really cares. For some reason, she falls for Squall and we're forced to put up with the worst love story ever.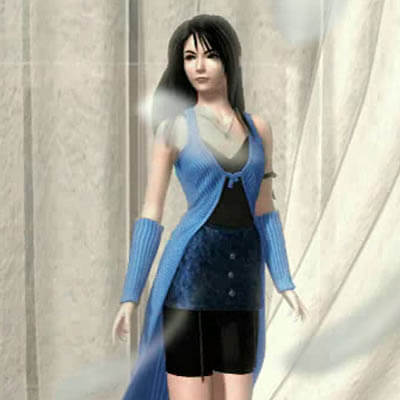 No, I need you here so I can bug the crap out of you.
Selphie
I could write a whole article on Selphie, but that article would consist of the word "cunt" 5000 times. Everything she says (including her own made up words) makes you want to torture her to death. I have nothing more to say on that.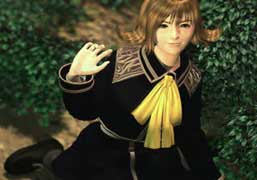 SHUT UP WHORE!
Irvine
Irvine is a sniper AND a cowboy. Both very manly things. You'd think this would make him cool, and someone you could like, but no. He fucks up in the beginning trying to shoot someone, but chickening out. And you know it's all downhill from there. The rest of the game he spends hitting on anything that might have a vagina, which still somehow does not make him likeable in the least bit.
I can just imagine what the designers were doing when they thought this shit up.
Game Designer 1: Ok, yeah, how about a sniper?
Game Designer 2: Hey, we don't have comic relief, let's make him a horrible pimp.
Game Designer 1: Yeah, sure. Want to go to the bathroom, do some coke, and suck each other off?
Game Designer 2: God yes.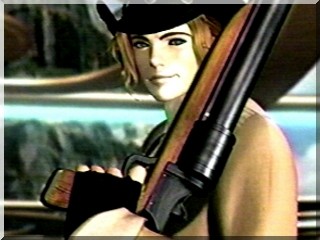 For the love of god, put the gun in your mouth.
I'd write more about the characters, but none of them really stick out as much. They're all just kind of there, pointlessly doing things for hours on end. It's kind of sad when not being noticeable is the greatest compliment you can get.
Surely the gameplay makes up for the shortfalls in character development
I would have been happier with old Dragon's Lair gameplay. You remember, where you watch that stupid guy run through a castle, and if you don't hit a direction at a certain moment, you die horribly? Except, the controls were so fucking shitty, you were most likely to die on the first few screens, continually hitting the button you need, cursing as you watch that stupid guy get killed for the billionth time in a row.
Yeah, that would be better than the battle system this game has. You see, the developers thought that getting rid of MP to cast spells was somehow a good idea. So instead, they gave us the draw system.
The draw system is the equivalent of hitting yourself in the nuts when you're having a heart attack. It's just unnecessary torture. So, instead of killing the monster you're fighting, you have to extract spells out of it, while said monster slowly eats away at your life. I think that's a good metaphor for the whole game. Instead of finishing it all up fast, it forces you to keep dragging on, making you hate yourself and purchasing habits more with every passing hour, all while slowly eating away at your brain.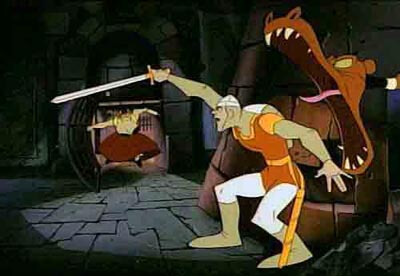 Left motherfucker! Look out for the fat girl!
Everything else in the battles is just mediocre. It's the usual attack until something attacking you dies, and use summons for bosses. But to fuck with you a little bit more, characters have to be joined to summons so only one person can use them at a time, and they take what feels like 3 hours to complete.
Surely these stupid characters do something worthwhile over the course of 30+ hours
Oh how I wish that sentence were true. You see, the plot is the worst part of this game. Yeah, it's the usual "save the planet, space, and time itself" type of scenario we've all been seeing since the early days of gaming, when plots were told to you in instruction manuals and nowhere else. But this game manages to fuck that up; using some of the most horrible plot twists I've ever seen. And I've seen all of M. Night Shyamalan's movies, so I know a bad plot twist.
When first starting the game, you know it's not going to be good, as we're treated to a dance number. Yeah. See, Squall can't dance, because he's a jive ass honky. That doesn't stop someone from pulling him onto the dance floor so he can fuck everyone up with his awkward moves. But wait! Fifteen seconds into it, and suddenly he's amazing and the center of attention. Now that the re-enactment of Footloose is over, let's move on.
The point at which I knew that nothing could save this game was only a few hours into it. Things were slow, but I was patient, a lot of games start off slow. Then we started to get some backstory on all the characters to try and give them some depth. This failed terribly. As it turns out, they're all orphans. But wait, they all seem to have memories that are sort of similar. Then, somehow they all manage to remember that HOLY FUCKING SHIT THEY ALL GREW UP TOGETHER, WITH THE MAIN VILLIAN AS THEIR CARETAKER AND THEY JUST FORGOT. I swear to god people, I can't make this shit up no matter how hard I hit myself in the head.
Oh yeah, I should probably mention there are spoilers in this thing.
The only other real "what the fuck" moment I had was when monsters started coming from the moon to earth for NO REASON. They just started coming, and everyone shits themselves as they came by the dozens. And once again, instead of an organized army or bullets, a few kids and their angst win that battle.
Some other incredibly stupid stuff happens, along with the usual bad dialogue, and whining about not wanting to save the world. I never understood how if an army can't stop a threat, some whiny kids could. By the end, you're rooting for anyone to kill them, whether it's the current bad guy, each other, or a passing hobo with a knife.
Then there's the end. Oh god, the end. By the time they reached the end, the designers knew everyone had abandoned hope. I was hitting myself with the controller every time one of them said something, hoping to knock myself unconscious, because a coma would be more enjoyable at this point. For some reason, everyone is thrown through time to the future, where they meet Ultimecia (Yeah, that's her actual name), who has no prior mention to this final battle. She's just there. Well, this dumb bitch goes on about some shit she calls "TIME KOMPRESSION." I almost lost at the fight because I was laughing so hard. You fuck her shit up, things work out, no real surprises.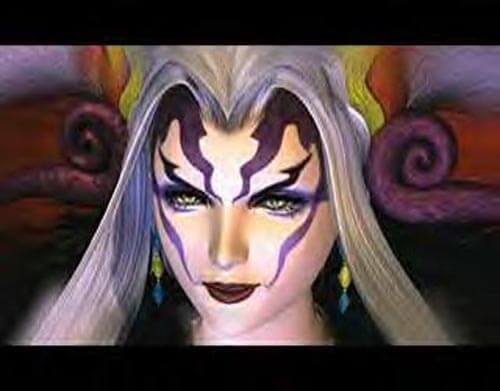 Apparently two Mike Tyson tattoos makes you really evil.
So it's over, and all you can say to yourself is "Thank God." I have never seen a bigger train wreck of a game in my life. To this day, I'm not sure how the game gets positive reviews, as I could not find any good points that made the game worth it at all. Personally, I think we should all just be angry as Japan for sending such utter crap overseas, despite how many fanboys eat it up.
I need to stop now, this has all brought back painful memories I tried to repress. I have a migraine, which might work its way to seizures soon. Plus I need a shower, because after searching for pictures for this article, I am not clean in any way.
---
Fly
BaxterTheFly@gmail.com
AIM: FreshGoesBetter