The Fall: A Movie to Take You Out of Your Blockbuster Daze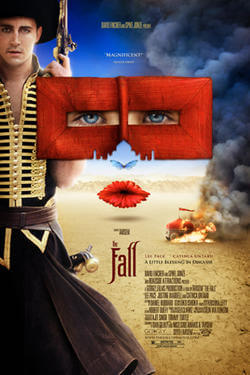 Eye candy meets quality plot in The Fall. A small child from a war-torn country meets an American stuntman hospitalized due to a death wish. This is Los Angeles, California, 1915. Alexandria's (Catinca Untaru) broken English and childish concepts of priority as well as her seriousness and self-reliance win admiration. Roy Walker's (Lee Pace) desperate desire to befriend the child loved by the hospital through a promise of a story win our hearts in his favor as well. And then everything is torn to shreds.
The movie is the brain child of Tarsem Singh Dhandwar. It was self-financed to assure that his creative vision (obsession?) is not tampered with. The outcome is breathtaking, jaw-dropping, heart-rending. The film was shot on location all over the world, conveniently enough as Tarsem's full-time job as a music video and commercial director required travel. The pay-off is astonishing. Whatever short-falls the movie may have, it is never in the visual realm.
The plot is of a story within a story within the less obvious context of the world of film-making as well as the world at large. Somewhere there are homes being burned, somewhere else a stuntman falls in love with a leading lady and agrees to perform an extremely dangerous jump from a bridge. It is never clear if she loved him back, and if he agreed to this life-threatening stunt when she scorned him, in fact, we hardly see her in the movie. And little is known of that country where it is enough to defend what is yours to earn death. The details are fed to us through the story Roy tells Alexandria. The child's background is even more vague. She divulges bits and pieces as if everything should already be a known fact; the egotism of a five-year old.
The story Roy tells her is about a company of bandits who all have been hurt in some way by Governor Odious (Daniel Caltagirone). One lost a brother, another a butterfly; the band is quite motley in background and abilities. The Black Bandit's reason for revenge change as the story begins to match his life, his identity too changes to fit Alexandria's needs. On the way to battle the evil Governor, the band covers new strange lands (some of which are quite real) and meets strange characters. But in the end they are all at the whim of Roy.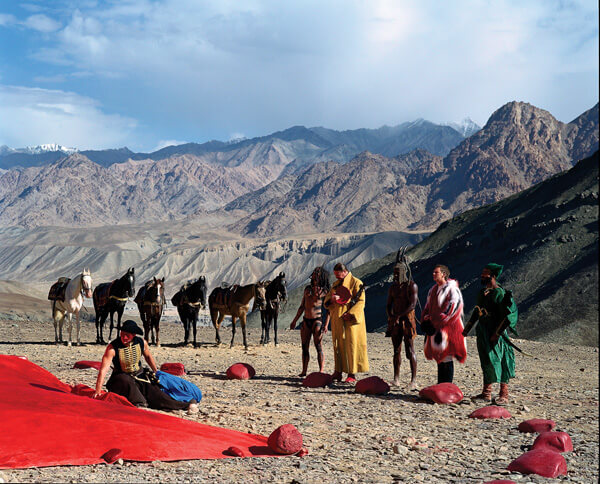 Alexandria becomes quickly attached to her new friend and he just as quickly drags her into the story he tells, which by the way, feels like a story a person makes up on the fly, and which changes direction and focus accordingly. But it isn't loneliness he is trying to chase away by entertaining the child, he is weaving a web of friendship, father figure, and story and soon she is tangled and becomes his pawn.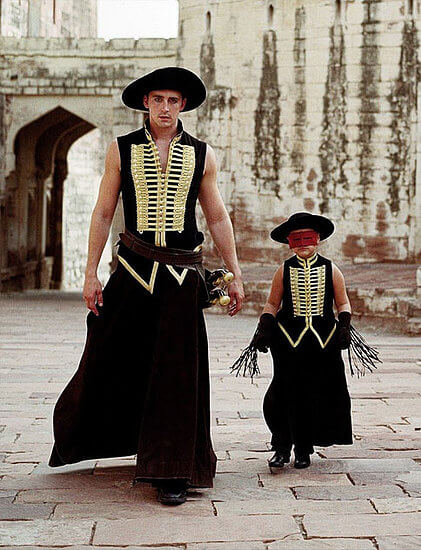 Alexandria (Catinca Untaru) and Roy Walker (Lee Pace)
The stuntman is a monster. His single-minded desire to die makes an egotist of him too. He does not see what he is doing to this child who has lost so much and daily loses more. As lighthearted and often hilarious as the movie is, it is also a place where nightmares become reality. The movie is often interpreted through Alexandria's eyes, and the nightmarish portions are so made even more disturbing. The hospital environment, which at first seemed nurturing if not exactly child-friendly becomes hell. Demons are glimpsed through bereaved eyes. Friends die and betray. Shadowy figures from tales come to life, the a hallucinatory cartoon of head surgery will not soon leave the mind or the eye of the viewer with it's stick figure doctors and continuous buzzing of voices and scalpels.
I won't give away the end, but I will tell you that this is a movie that caught me with its story, and with its visual effects, pulling at the senses. It made me think and forced me to feel. I walked out speechless, unable to even discuss my favorite parts, for I was still in its thrall. I would love to compare it to something, to give you a better idea of what to expect, but this isn't The Princess Bride, or Pan's Labyrinth, and it's not the Eternal Sunshine of the Spotless Mind, or Mirrormask… Just go see it, and feel the latest flickery crap you saw in the movies drift out of your newly cleansed mind
---
More: