The Fiery Pit Called Hamlet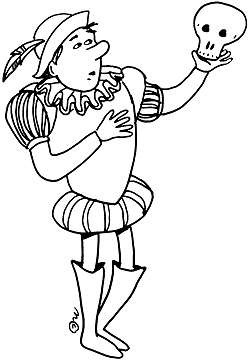 Crammed in plastic chairs with hundreds of people inhaling what should have been my fiery oxygen, I prepared to watch this year's production of Shakespeare in the Park as presented by The Public Theater: Hamlet.
The morning went by more pleasantly. A few of us, hungry for culture, camped out and picnicked for a grand total of a workday, from 6am-1pm, to make sure we got tickets to that evening's performance. This year was going to be extra exciting as both Hamlet and Hair (playing during the second half of the summer) were put on in 1967, during The Public 's first season.
Rivulets of sweat ran down my back into the already formidable puddle by my ass. Gnats and mosquitoes bathed in my perspiration. The air was still. This is Saturday, June 7th, and we are in the Delacorte Theater–an open-air arena–in the middle of a heat wave.
The set this year looks like the layered and flattened rock seen just outside the Delacorte. A fire was lit at the anterior and central portion of the set, representing a grave, and the back of the stage was cut off by a monstrous wall made of several moving parts, crowned by a catwalk. The wall separated into portions to become a ship, a bedroom, or to allow the natural forest behind to be seen and become part of the set. Rows of seats where the audience resided were sometimes appropriated by mad Hamlet (Michael Stuhlbarg) for his endless rushing to and fro followed by Rosencrantz (Hoon Lee) and Gildenstern (Greg McFadden), Horatio (Kevin Carroll), or whoever else was stuck baby sitting him at the time.
We had excellent seats: far enough from the hot lights and spittle flying from the over-enthusiastic actors, close enough to see the various insects trapped in Hamlet's hair during one of his madness-induced rushes into the audience.
The actors visibly suffered. Oskar Eurstis, the director of this performance, set the stage in the winter, which included lots of heavy coats and military garb. I'm not sure why function was not at all considered in wardrobe design when the play was to be performed under the open sky in the month of June. Act I was a fairly miserable experience as each actor hoped to kill their personal swam of gnats with ferocity of Shakespearean prose.
As there was generally so much to hate, lets start with a positive: Polonius, played by Sam Waterston of "Law and Order" (I should point out that nearly every actor in this production was at some point on "Law and Order"). He was humorous, but he also was the only actor who seemed able to ignore the horrible conditions and to not actually descend into the madness of the play. Queen Gertrude ( Margaret Colin) didn't offend either. She was the fashionable yet conservative First Lady to King Claudius (Andre Braugher) who was a stolid king with a mild speech impediment until his degeneration into throaty weeping towards the end of the play.
I was ready to strangle the hysterical Hamlet and was annoyed by moon-eyed Horatio who was constantly searching for something (air?) in the sky with a half-idiotic smile. Lauren Ambrose (of "Six Feet Under") played Ophelia, but this hardly differed from her performance last year as spazzy and horny Juliet. Calmer this time, and at moments my heart certainly went out to her Ophelia, but I'm glad her part was limited in comparison to last year.
The highlight of this three and a half hour torture performance occurred at the start of Act II. It may have been the sudden breeze which moved the scalding air around and chased away a few bugs, but it may have been the astounding excellence of the play-within-a play. Huge marionettes were used to represent the villain who poisoned the king to quickly marry his flighty Queen. This was a haunting and powerful spectacle, something the entire play should have been. Too soon, it was over, and we were again trapped watching Hamlet shake his privates at both his mother and Ophelia when he wasn't wailing at the sky. Dazvsemir rightfully compared this Hamlet to Gene Wilder in "Young Frankenstein".
This may have been the interpretation of Hamlet where he suffered from both madness and an Oedipal complex and maybe that would explain his fits of humping. But nothing justifies a constantly hysterical Hamlet. More than anything, I wanted to throw my empty water bottle at him as he again sank to his knees keening nonsense at the unfeeling gnats.
As to Ophelia, she too needed a beating, especially during her too-long scene of singing mournful ditties and shoving rocks at people while she revealed that she too was mad. Madness, as well all know, is best recognized when a woman hacks off her hair, puts on combat boots and a trench coat, and in a filthy pink dress annoys everyone with idiotic songs.
You won't be surprised that my favorite moment of the entire experience was when, after an impromptu murder that was in no way part of the original play, it was finally over. The actors certainly suffered for their art that night, but we shouldn't have had to.
---
Hamlet runs until June 29th. Let's hope Hair won't be as miserable: