I messed with The Zohan, but I don't recommend you do it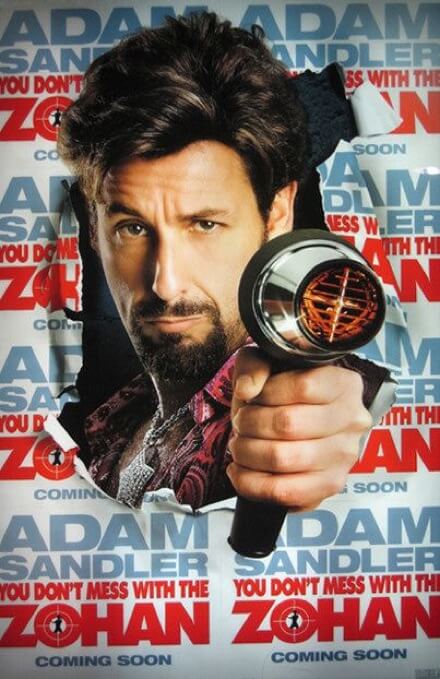 Dennis Dugan created another comedy characteristic of his previous efforts such as Big Daddy, as well as the more disappointing Adam Sandler movies like I Now Pronounce You Chuck & Larry. Disgustingly hilarious for the first hour or so You Don't Mess with the Zohan deteriorated into tedium the moment Adam Sandler (playing Zohan) was allowed to, yet again, focus on a hot chick (Dalia, played by Emmanuelle Chriqui) with whom he was to have his sticky happy ending.
The Waterboy, Little Nicky, and The Wedding Singer are among my favorite movies. I appreciate Sandler's stupid accents, sudden rages, and other tomfoolery. I like toilet humor, and can always do with a cast of quirky characters. All of these Zohan has, and yet, not quite half-way through, it still stops being funny. The jokes get too long, milked for all they're worth. Yes, he becomes a sucessful hairdresser because he is also in part a gigolo, but that's only funny for a little while. The plot stagnates and other characters are overshadowed by Sandler.
As to the plot, it goes like this: Zohan is Israel's bionic James Bond. Palestine has the Phantom, played by the priceless John Turturro, who is not as bionic. Zohan fakes his death, at the hands of the Phantom, and flies to NYC to make it as a hairdresser. Under the pseudonym of Scrappy Cocoa he beats and humps his way into the hearts of various women and men who offer him work and a place to stay. As he goes along, he picks up side kicks and also enemies, while eating hummus and ensuring that everyone gets to Disco Disco.
One of his friends, quickly turned disgusted son of a mother satisfied endlessly by Zohan instead of rent, is Michael, played by Nick Swardson. To me, Swardson is better known from "Reno 911", and his lisp and effeminate ways are wasted in this movie on a straight part. Of course Rob Schneider, whose movies I liked better until Deuce Bigalow: European Gigolo, makes an appearance. Painted brown, he is a Palestinian taxi driver whose goat Zohan once appropriated. He burns with revenge and attempts retaliation via a terrorist hotline and misarticulated orders for liquid nitrogen.
Eventually, a wealthy tycoon makes an appearance who wishes to tear down the neighborhood and build a mall where Zohan is now working as a successful hair dresser, trying to make sticky-sticky with the hot salon-owner. Both Palestinians and Israelis are united, first by a hacky sack tournament, and then through adversity. Their more lovable stereotypes overcome the Evil Redneck and The Man, and everyone lives happily ever after. As if there was ever a doubt.
The consensus was that although there are worse ways to find air conditioning in a heatwave than to see Zohan, there are probably better ways as well. If you're really curious, juts watch the trailers, that's where the funniest parts are anyway.
---
Here are some links