'Martyrd' at the feet of 'Testament'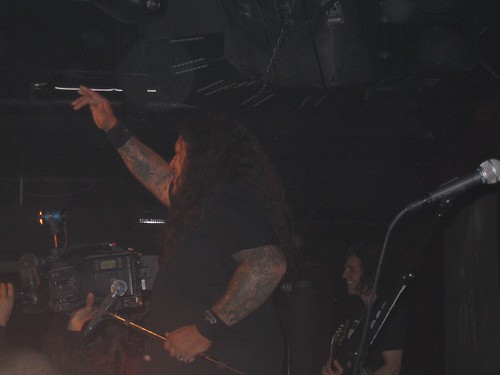 Testament greets their legions
After many months fate brought me, once again, to B.B. King's for another evening of excitement and metal. It seems like it's been forever since I was last at a metal show, but the night of April 6, 2008 was not to be missed for any reason. The legendary thrash metal band Testament has returned to New York City and has brought with them all the power and…oh, wait…let's start from the beginning.
The first band of the night was a local band from Queens with a penchant for old school thrash. Martyrd blends an old school thrash sound with new school vocals and with classic extended guitar solos. Lead by the impressive guitar work of Queens native, Mike Stylianou, Martyrd has been on the scene since 2003 normally playing small venues such as The Crazy Donkey in Farmingdale or The Lion's Den in Manhattan. This was their biggest show to date, drawing an impressive audience, even by opening band standards. The overall crowd response was positive as Martyrd supplied the thrash appetizer to what would be Testament's entrée. "The general consensus from our guys was that it was one of our best shows…", says Stylianou, "we were all really amped to play with Testament…We worked really hard selling our tickets, and [we] practiced a lot…In the end it paid off." Martyrd will be playing again at B.B. King's on June 11th with God Forbid and Death Angel on the last stop of the IN THRASH WE TRUST TOUR, and also the TMT Metal Fest in upstate New York, so head out and catch this budding group of Metallers.
Up close with Aaron's crotch
Aaron belting out some lyrics
A true master needs no eyes to Shred
Ditto
The next band of the night was a step away from the thrash sound of the evening. When I first heard the name Nethereal I knew it sounded familiar, but I just couldn't place it. Once they started playing, though, it hit me; I had seen them before. Let me take you back to the article "Finnish Trolls Make Great Pets" and that opening band which was so horrible I didn't even want to mention their name.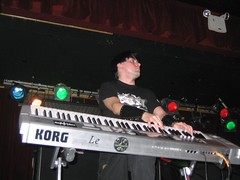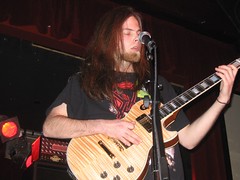 Well, this was them. This time, however, I was less disappointed with their performance. Nethereal is a blend of Death and Black metal, with some doom and progressive sounds thrown in. As during the last time I saw them, they kept leaving gaps when transitioning between sounds and I still couldn't hear the keyboards at all, except during brief solos. Nethereal had a good set, all in all, and were a great lead in to Testament. Besides Finntroll, Nethereal has opened for Symphony X and will be opening for Nightwish on May 6th in Hartford, Conn.
So, let me get back to what I was saying earlier: the legendary thrash metal band Testament has returned to New York City and has brought with them all the power and fury of a freight train wreck. The crowd surfers began pouring over the railing almost immediately, making picture taking rather hazardous. Fortunately, I was able to solider on and get some good shots before security kicked me out for my own protection. Testament had the crowd headbanging to every chord and moshing in one of the sweatiest pits I've recently encountered. Chuck Billy commanded the stage with his large stature and dominating vocals. I thought Testament gave it their all and, even though I was seeing them for the first time, I wasn't disappointed in the slightest.
Alex Skolnick enjoying what he does
Oddly enough, Testament didn't see things the same way. According to Mike, "backstage, the guys from the band were talking about how they were disappointed and had played better the night before." Though I wasn't at the previous night's show I can say that this was no disappointment to any member of the crowd. From beginning to end every member of the audience cheered, screamed, and thrashed to one of the top metal bands of our time.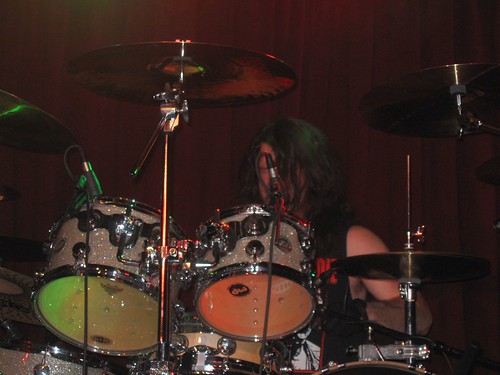 The best pic of Paul Bostaph I could get
Eric Peterson's V actually flies
Greg Christian on the 4-stringed Mother Plucker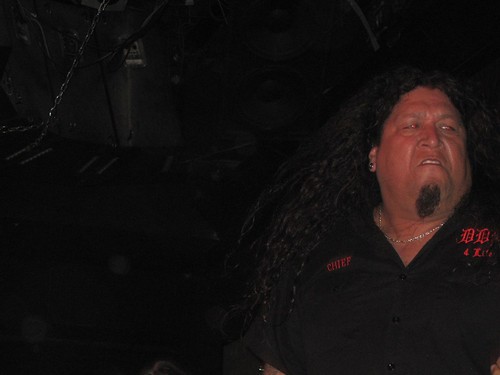 Intensity
Testament was in New York promoting their new album, The Formation of Damnation. With a whole two hours to fill they played a set with every classic song from old to new and replete with onstage antics. Lead singer, Chuck Billy provided interjections promoting the new album, charity works, and humorous comments about the band members. We were also able to hear the talented drumming of Paul Bostaph, who has only been back with the band for just under a year, after leaving in 1993 to join Slayer. Another, highlight of the night was the new single, "More Than Meets the Eye", off of their soon to be released album.
The Formation of Damnation will be released April 29th. Testament will also be appearing at the Chicago Powerfest in May.
---
Lay your thirsty ears to this:
Testament – Home Page & Myspace
Nethereal – Myspace
Martyrd – Myspace
B.B. King's Calendar of Events