Is He Dead? : A Theatrical Comedy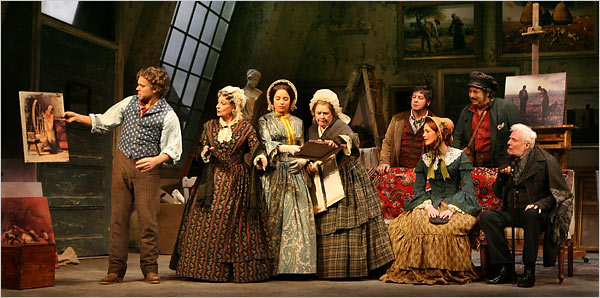 "Is He Dead?" is a theatrical production currently playing at the Lyceum Theater on 45th, between 6th and 7th avenue. The brilliant Norbert Leo Butz headlines the show as Jean-François Millet, a struggling painter, in this comical play written by Mark Twain in 1898.
As the curtain draws, the audience is introduced to the jubilant singing and skipping of Millet's two closest friends, Chicago and Dutchy, as they enter Millet's humble abode/studio. Next enters papa Leroux, with his two daughters, and you quickly learn that Leroux owes a heavy debt to the nefarious and greedy Bastien André, a wealthy loan shark of sorts. Shortly thereafter, Millet makes his defeated entrance, as he could not sell a single painting. Having an outstanding debt with Bastien himself, Millet and Papa Leroux both wonder how to work out their debt, when Bastien confronts them and demands his pay by 6 P.M the next day.
After a brief encounter with a potential customer–who refused to buy a painting on the sole basis that the artist was not dead–Chicago, Dutchy, and newly introduced friend O'Shaughnessy, come up with the idea to stage Millet's death via exotic disease in order to jack up the value of his paintings. What ensues is one of the funniest satirical romps of classic cross-dressing where Millet is forced to pretend to be his own twin sister, Daisy, while trying to keep his identity from being discovered.
The sets were beautifully rendered. The first is a drab, gray, and lifeless room littered with paintings waiting to be sold. If one could imagine a starving artist's home, this set would quickly come to mind. In the second act, the dismal studio transforms into a beautiful room with white walls that glimmer with luxury and features extravagant furniture fit for a "lady" of wealth.
The acting was outstanding. Norbert Leo Butz was not only versatile and graceful, but he perfectly executed the mannerisms of a cross-dressing man who doesn't know how to be lady-like. Millet was the most interesting character I've seen in any play, and certainly one of the most memorable. His interactions with the other characters were just so funny, that even one of his co-stars, who plays the role of his lover, Marie Leroux, had to laugh during a moment that sent the crowd into an uproar of laughter and clapping. I don't believe her giggling was supposed to be part of the show, but he went right up to her, giving her a hilarious "no-no", and cleverly improvising, all while the audience tried to control its cheering and let the show continue
David Pittu, who played four distinct roles, was another bright spot. Although the snobby, squeaky English accent remained the same in all characters, you couldn't help but laugh as he managed to give each role a unique identity. Let's not forget the rest of the actors, who were vibrant and comedic in their own distinct way. The whole cast put on a performance that not only made me laugh while in the theater, but kept me going as I made my way out.
If you have time to spare on the weekend, and you feel like getting some culture on without subjecting yourself to the torture of melodrama found in more serious works, then buy a ticket for this play. This light-hearted satire will have you rolling until the curtain call.
---
For more information check out the Is He Dead? homepage. And if plays are prohibitive to your student budget, then find out more about the Theater Development Fund (TDF).