The Triumphant Return of Machine Head
(This article is brought to you in fragments and overlaps by both Dazvsemir and ETL. And sorry, clicking on the pics will just force you to sign into Flicker and then meet with disappointment.)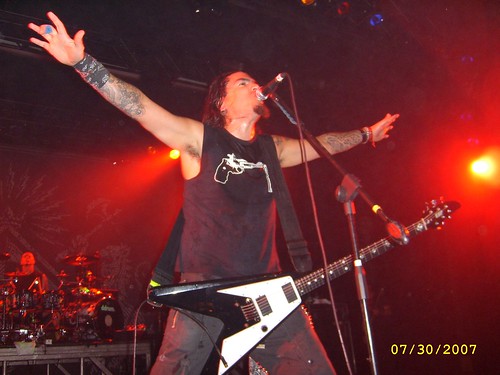 Rob Flynn (vocals) of Machine Head
Dazvsemir: Before I could even catch my breath after Finntroll I found myself rushing to see Arch Enemy and Machine Head at Nokia Theatre on September 22nd. Unfortunatly, due to a lapse of memory on my part I was delayed slightly and arrived late to the venue. Luckily, I was able to breeze through security without missing any more of the show than i already had.

ETL: Nokia is one of my favorite, but least visited venues. They should play more metal more often. It is spacious, but the floor in front of the stage is still a cozy and intimate battlefield. There are a great many seats in the back which I like to think of as the geriatric and budding metalhead section. There are also waitresses intent on serving drinks and striding through moshpits as if they were full of kittens instead of thrashing guys who look like they might have cortical damage.
Dazvsemir: I was surprised to see that the opener was Sanctity. I had seen Sanctity some time ago when they opened for Dragonforce at Avalon. They play a blend of Thrash and American Death Metal (which was consistent with most of the bands that evening) with some real energy behind it. They had impressed me the first time, but I felt they could have improved on their stage presence a bit. This evening, though, they showed a tremendous improvement. Jared MacEachern's (Lead Singer) gravelly vocals were able to incite the crowd to mosh; something many opening bands I've seen fail to do. Though I missed half of their set Sanctity was still able to get my metal juices flowing in anticipation.
ETL: Sanctity romped on stage like excited puppies (what's with cute animal references?) and their general happiness was extremely contagious. Their call to circle pit was probably the most wildly effective in the history of opener bands. Despite the high number of participants, the collective age in the pit was probably still under 40.
Dazvsemir: Next up was Throwdown. I had never really been a big fan of their music, mostly because I thought they sounded a too much like Pantera. There really hasn't been much of a change. While their style of Metalcore and Thrash is great music, I still feel I can just listen to Pantera and get the same entertainment value. Though I'm not a big fan of Throwdown I was impressed by their energy onstage. Vocalist Dave Peters was able to galvanize the crowd, even leaving the stage to get in the faces of the sweat drenched metal heads crushed against the crowd barriers up front.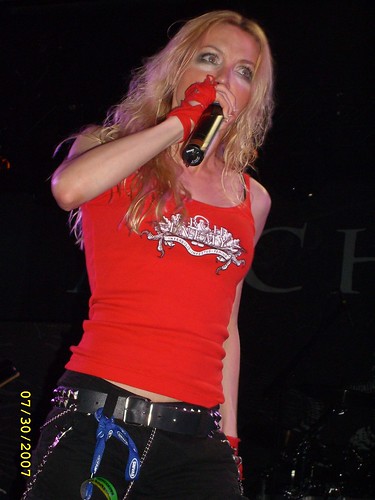 After some confusion (on our part) about the line-up for the evening Arch Enemy took the stage. Mosh pits sprang up almost everywhere. It was hard not to get caught up in the excitement and violence. Arch Enemy played a great set and Angela Gossow's vocals were better than I've ever heard them. She was active onstage running from corner to corner to ensure every fan up front was a part of the show. Oddly, she kept making a weird fishy-face for some reason. Not the most metal of faces, it subtracting little from her natural German beauty. This Melodic Death Metal band from Sweden was the perfect lead into what would be (for me, at least) the biggest surprise of the evening.
ETL: While I hung around in front of the barrier waiting around to snap shots of Arch Enemy I listened to the people behind me make the crudest comments about Gossow. That pissed me off at first, but after watching her on stage, I couldn't stop thinking of her as exuding a certain trailor-trashiness. The face Dazvsemir mentioned she couldn't stop making made her resemble a blow-up doll. The show was good, but I enjoy their music more in the privacy of my home rather than in a sweatbox with twitching prepubescent fans.
Dazvsemir: I had expected Arch Enemy to be the headliner for the evening and was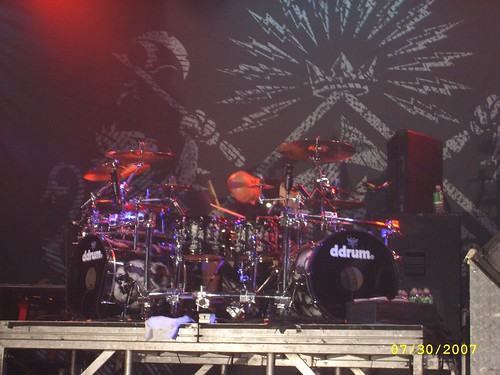 surprised when I heard that it was actually Machine Head closing the show. I had been a big fan of theirs many years ago, but they eventually fell off my radar due to a couple of albums I didn't care for. I now know that the rumors I've been hearing about the return of Machine Head are completely true. Ditching their experimental Nu-Metal sound, Machine Head has returned as the Thrash Metal greats they once were. Promoting their newest album, The Blackening, Machine Head played a set which made me regret not keeping up with them for the past few years. My enthusiasm at this point was at its peak.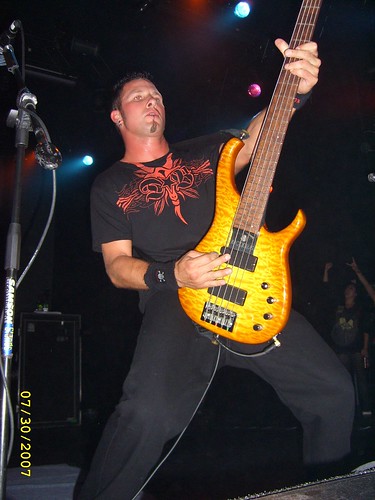 The crowd responded with equal vigor and began moshing with reckless abandon. Even our own ETL, fresh from her picture taking, rushed to join in the friendly, violent fun of the mosh pit. Standing on the sidelines, myself and d42 were drenched with the beer of one drunken fan and whipped with the Slash-like hair of another. Surely, there was no place to hide from the crowd or the raging metal which fueled their frenzy.
The only thing which got me down that night was the news that band founder and bassist, Adam Duce had broken his leg and was unable to tour with the band. In a recent interview Duce spoke about missing the tour, "I've never missed one show that this band has ever played up to this point and I never thought I would see the day when Machine Head would be playing and I wouldn't be on stage." His duties that evening were shared by Jared of Sanctity and Brandon Sigmund of Hostility.
ETL: I bow my head in shame for completely skipping twelve years of amazing metal and not following Machine Head until now. "They said our fans are undesirable. We've been physically removed from venues," Rob Flynn (vocals) told the crowd. I wasted years not being one of these undesirables. A man/fangirlfromhell to the side of us, wearing pleather and liquor obviously has been around for all of it as he yelled about "sweet love" to Flynn and splashed remains of his beer around.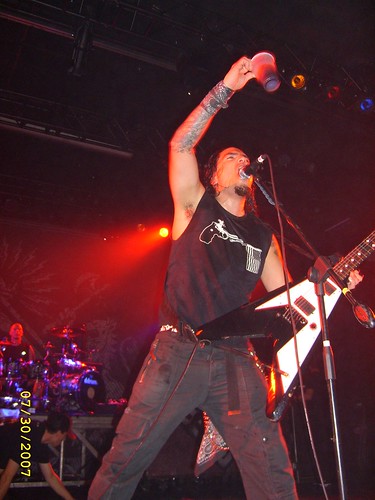 Flynn himself was in a sharing mood and once I settled into the crowd, I was constantly sprinkled with liquor. Especially during the "big dumb burst of Neanderthal fucking anger" that was "Aesthetics of Hate" dedicated to Dimebag Darrel of Pantera. I am already shivering with anticipation of buying (yes, actually paying money) for every album put out by MACHINE FUCKING HEAD. Through the Ashes of Empires will probably be the first on my list of acquisitions.
Before leaving the stage for the night Flynn stage-dove into the crowd and although we nearly dropped him from surprize or general lack of muscle, Flynn was righted and eventualy given back to the stage. I may have gripped his legs through his sweat soaked musty pants a little longer than I should have.

Dazvsemir: Once the festivities were over I could finally catch my breath and absorb what I just saw. Sanctity, Throwdown, and Arch Enemy all reaching their limits, and the return of Machine Head to their former greatness. It was a night of metal, violence, and revival.
---
~All photos by ETL
For more information about the bands visit:
Machine Head
Arch Enemy
Throwdown
Sanctity