Finnish Trolls Make Great Pets

(photo by http://www.nordische-musik.de)
Thursday, September 20th was a cool, crisp night and yet another I would be spending at B.B. King's Blues Bar and Grill. It has become my second home lately. The goal was to see Finntroll live in concert and it was certainly achieved. I had been wondering if there would be any opening bands, since Finntroll had only been billed by itself, and much to my dismay there was but one opening band. Needless to say, this was one of those times I wish I had arrived late. This band (which I will not name to make sure they get as little press as possible to contain the tragedy that is their band) was horrible, to say the least. Of the 5 or so songs they played the last song was the only tolerable one. On the bright side, it made me hunger for Finntroll all the more. Once that ordeal was over with the wait for Finntroll had begun. The set list was in sight and was about as long as my forearm. I could tell then that the audience was in for a nice long night of pure Folk Metal.
A little background on the band first. Finntroll are actually from Finland, despite claims that they are from Sweden. This innacuracy stems from their song lyrics being sung in Swedish (the second native language of Finland, along with Finnish). The original vocalist Katla chose to sing in Swedish because "Swedish just sounds damn trollish" (also it is his first language). Their brand of Folk Metal is generally light hearted and includes elements from traditional Finnish folk music.
The band itself has had many changes over the years including numerous line-up changes. The night's show would introduce their new singer Mathias "Vreth" Lillmåns to the USA. He is the third singer the band has had and the vocalist from their newest album, Ur Jordens Djup, released earlier this year. I had only heard a few songs from the new album and I had noticed a change in the band's overall style. This show would be the real test of the newest incarnation of Finntroll.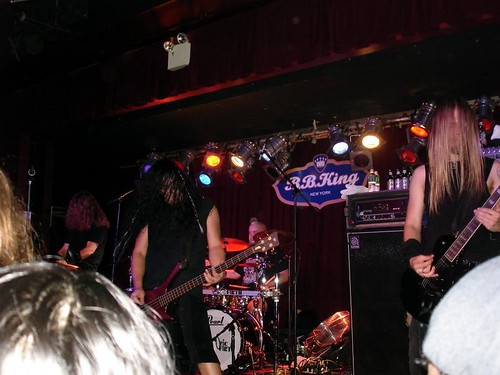 Finntroll entered the stage to the roar of hundreds of would-be Vikings. This being only their second time touring in the States, they certainly brought their A-game. With their set list being longer than an eight-legged horse, Finntroll was able to play about 4 songs off of every album they've ever produced. For a first time listener this would have been the perfect show to attend. This also clearly showed the progression of Finntroll's music from past to present.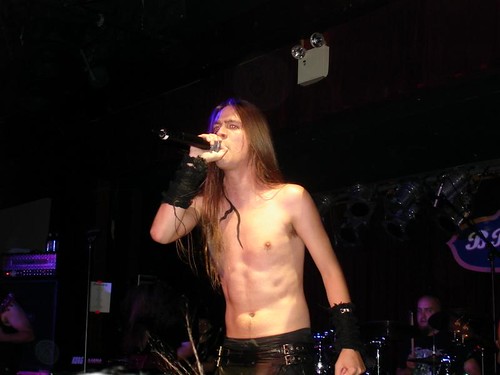 Vreth has had mixed reviews as current vocalist of Finntroll. From the night's performance it is clear that the music off of the current album has a more Death Metal feel to it, rather than the Folk of past Finntroll. The new material is by no means bad, but it does lack that Finntrolly charm. This does leave fans, including myself, missing Wilska, the band's previous singer. Despite this, the show was more entertaining than the first time I saw Finntroll perform. Not limited by being an opener, Finntroll was able to dominate the stage. Adorned in kilts and war paint, Finntroll put on quite a memorable show and was able to rile the crowd with their battle cries. The crowd responded with an equal fury of chants which fueled the intensity of the night. Unfortunatly, there was a lack of jigging going on. This did not hamper the evening in the slightest.
Finntroll gave their all and performed one hell of a show. They used every second of their hour and a half of stage time to its fullest potential. Many times after attending a concert I feel drained from fighting back the crowd, but leaving B.B. King's tonight, I couldn't help but feel a bit galvanized. It was like Finntroll had entertained me to my fullest and left my with a surplus of enthusiasm. An enthusiasm which would come in handy for my next concert (only days away).
---
For more information about the band visit: