The Xecutioner Has Come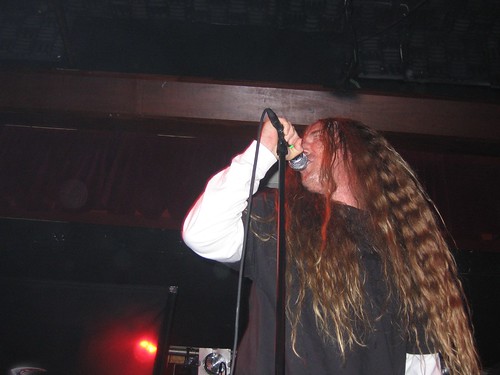 John Tardy of Obituary. The least Cousin-It-like we could catch him.(photo by ETL)

Wednesday, September 12th, d42 and I sauntered into B.B. King's at 8pm, yet unaware that we just missed Hemlock and Chthonic who apparently opened for Full Blown Chaos, Alabama Thunderpussy and Obituary.
We drank an overpriced beer each and hung around by the bar while Full Blown Chaos, a thrash metal band from Queens, roared on stage unspectacularly. They weren't terrible, and I should give them their due—for hefty guys they sure were energetic. There was an issue with their drums in the midst of it all and Ray Mazzola (vocals) covered up by demanding to hear everyone's death metal growl, which was fun. Their new album, Heavy Lies the Crown , is in stores now.
Although the show was all ages, looking around we realized that Obituary brought in a crowd that actually lived through the 80's, as well as that pesky first quarter of a century, and spent most of that time growing their hair. We even saw denim vests.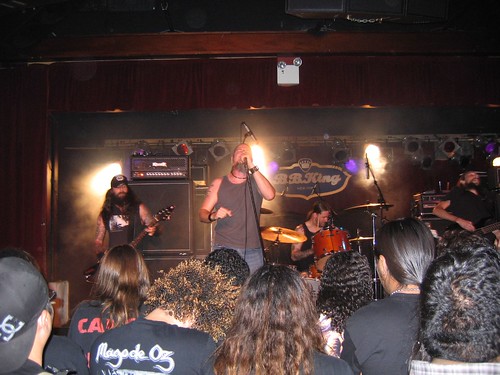 Alabama Thunderpussy before their fans. (photo by d42)

We didn't catch too much of Alabama Thunderpussy, but they were a nice southern rock interlude to heavier metal that was the stuff of the evening. Their sound, according to d42 was like that of a less annoying Pantera. She liked them, despite their inconvenient name, because Kyle Thomas (vocals) jumped around and played air guitar. I liked the 80's lilt of their vocals and the fact that I could discern words in general. As much as I enjoy death and black metal, a band limiting its vocals to shrieks is really narrowing its audience. ATP is currently promoting their latest album, Open Fire . With occasionally country-like lyrics and sound ranging from Red Hot Chili Peppers to the sort of melodies Pink Floyd wouldn't be ashamed of, they pleased and also stood apart from the rest of the night's lineup.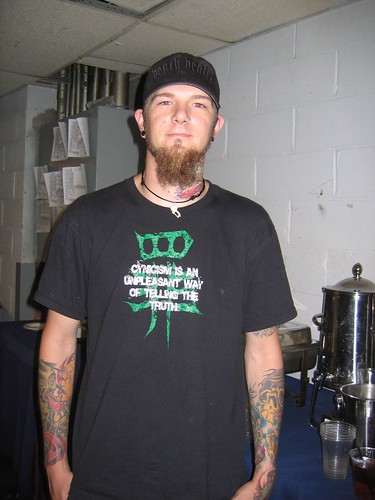 (photo by d42)
The reason we didn't get too much of ATP was because we caught up with Bryan Gentry (guitar/vocals) of Hemlock for a few minutes, backstage, where he was drinking weak herbal tea to help heal his throat. I felt even more like a jerk for missing their set, no less so after sampling their music from myspace (the guys run the page themselves) and realizing how good they are and how fun their set must have been. Originally from Las Vegas, newly signed (to Candlelight Records) Hemlock has been on tour supporting their re-released and re-mastered album, Bleed the Dream , for over six weeks. They have three other albums out and have toured with so many great bands that I decided to console myself with the fact that I either have seen them somewhere before, or will surely see them again sometime.
Although the venue wasn't packed before, the fans piled in when Obituary came on around 10pm. A death metal band from Florida, Obituary has been around since 1989, time spent accruing hardcore fans. Headbanging at that point meant there were hair columns to watch out for that were taller than the guys to whom they belonged. The pit got very serious, and at some point a guy pushed past us with blood streaming over his right eye. "Black Inside" may have had its artistic merits, but was probably the only song I did not enjoy.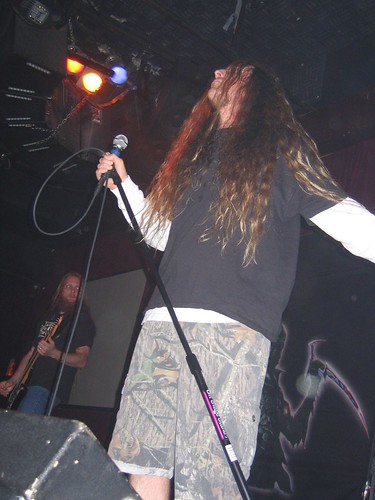 The calm before the storm. The man was a tireless beast on stage. (photo by ETL)
Obituary's newest album, Xecutioners Return , harks back to their beginning, Xecutioner being the name of the band before Obituary was born. True to the theme, Obituary played a range of songs, both from the new album as well as their famous Slowly We Rot which the crowd had to wait for for over an hour. When John Tardy (vocals) burst out with the sludgy throat slashing "Slowly… We…" a man in front of me, dreads only where thinning hair still allowed for it, swooned backwards into my arms screaming "ROT."

Ralph Santolla, Lead Guitar (photo by ETL)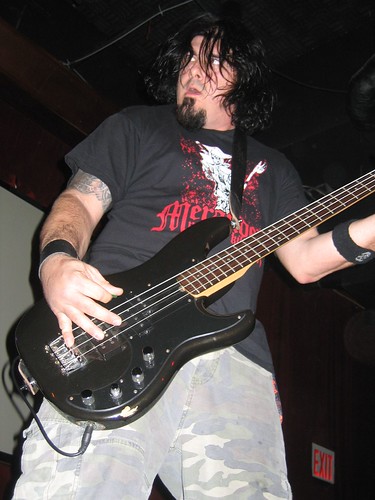 Frank Watkins, Bass (photo by ETL)

Trevor Peres, Rhythm Guitar (photo by ETL)
There was a great vibe between the band and the crowd and lots of fuzzy metal love. After an amazing set that took up over an hour and a half they reached out into the crowd and the crowd surged to touch them. There was certainly an encore that went on and on, pouring bitter-sweet pain into my ears, but before that, I was treated to a drummer solo like nothing I've ever heard live.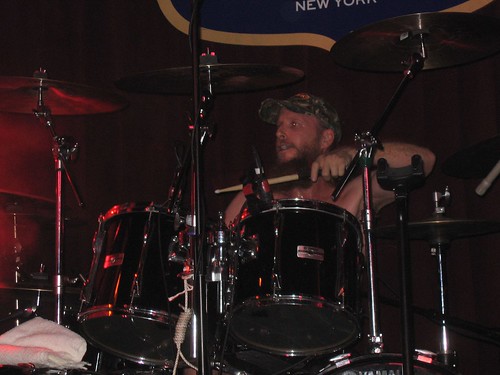 (photo by ETL)
Donald Tardy (Drums) started pounding out an imperceptible heartbeat while we waited for the band to come back. Soon the drumming was pervasive enough and we began to pay attention. Each time he hit the drum, it felt like a cobra just launched itself at me, it was so sharp, so demanding of attention, so hypnotizing. For about 15 minutes Tardy held us in his grasp and then the rest of the band returned and without giving us a chance to roar appreciation backed up Tardy with guitars. Eventually they flew into another song and the drum became part of the overall sound again, but the solo lingered with me.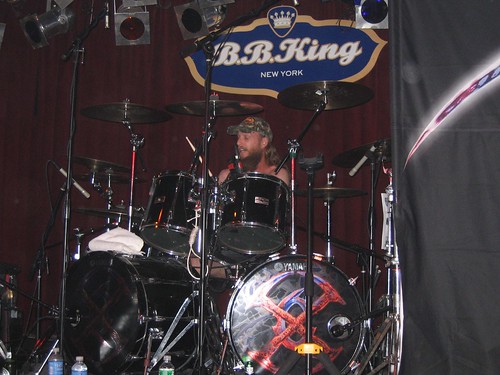 (photo by ETL)

A few minutes before midnight Obituary left the stage and to make sure we got the idea, Blues were blasted from the speakers. At the door a gleeful bouncer was telling us he had a great time and hoped we'll all come again sometime. He was the nicest and yet most effective bouncer I've ever had the pleasure of experiencing. He broke up a fight not by shoving people around but by giving the two guys a talking-to. He spent the night generally looking like he wanted to join folks in the pit. Another fan.
Outside, Bill Zebub—writer, director, and small time pornographer—was tirelessly pushing his "Grimoire". This edition had Santa Clause crucified by Jesus on the front cover.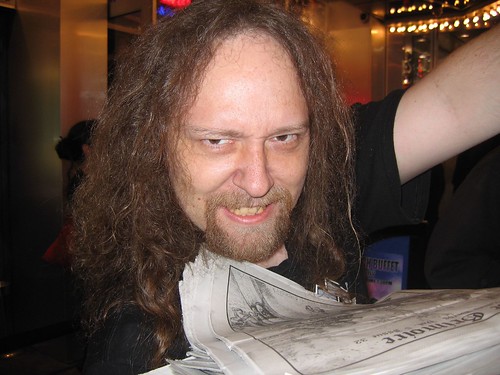 Bill says "Hi" (photo by ETL)