An Evening of Metal with Skinless, Chthonic and Nile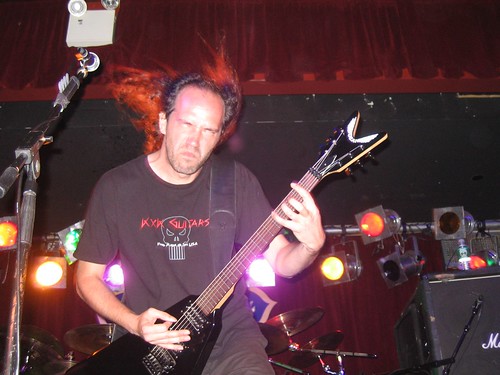 Dallas Toler-Wade looking like a demon
Yet again, I am at B.B. King's. It is August 21th and what the bands have in common tonight is their subject matter: mythology. OK, so the Halloween props scattered on the stage for Skinless and their mostly humorous lyrics maybe have nothing to do with it, but Chthonic and Nile are all about mythology, Taiwanese and Egyptian, respectively. They were also all part of the line up for Ozzfest 2007.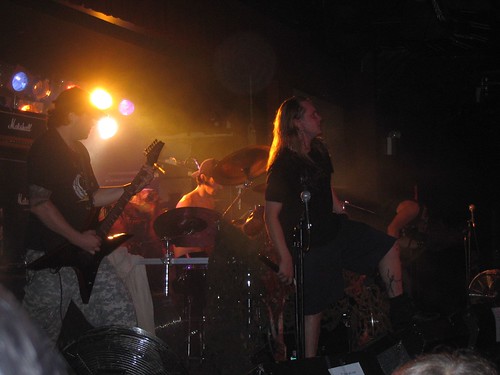 Skinless is a local band and a B.B. King's regular from Albany, NY. Their sound is predominantly generic death metal; fast riffs, guttural growls and high-pitched shrieks making lyrics indiscernible. The music drives up the ante and Jason Keyser (vocals) leaps off the stage. Swallowed up by the fans, he resurfaced, and after reaching the crowd barricade used it to leap into the crowd again. For Keyser they moshed like mad, even attempting a front-to-back wall-of-death.
Video of Keyser already crowdsurfing and then crowd barrier diving
After playing "Extermination of My Filthy Species" Keyser told the crowd he was only playing here tonight to see Nile for free and was met with a roar of approval. I've never heard them before, but as I listened I became more and more enamored with his shrieks while the Skinless stage presence pulled me in even more.
For the last song of the set Keyser told the crowd that he had something special in mind, something to engage everyone who didn't want to get punched in the face. Yeah, he said, in the pit we get violent and damage each other, but that was SO three songs ago." He wanted the crowd to clear out the middle of the floor, face each other, and then launch into a lumbering zombie wall-of-death! Enter "Thriller" by Michael Jackson. We laughed but Keyser seemed serious and when the song started and not enough people attempted this zombie moshing he jumped off the stage, clearing at least 5 feet and a dozen people to land in the pit and show how it's done. This was one of the most amazing and agile opener bands I've ever seen.
Chthonic (pronounced THON-ick), a Taiwanese melodic black metal band, took forever to tune their instruments and I began to worry that misfortune would follow them from Wacken Open Air (Germany) when their instruments, specifically the erhu, came up missing. They came out without dramatics while the lights were still on and stood around looking confused and a little embarrassed while a roadie fiddled about on stage. In their corpse-paint, leather, and metal paraphernalia they looked like a cross of Kiss and The Crow.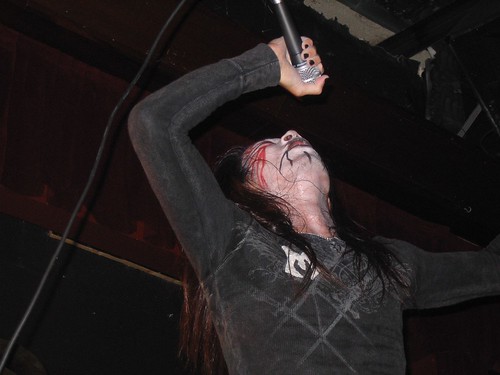 Freddy, Left Face of Maradou's vocals were the high-pitched screams characteristic of black metal with occasional clean and melodic backup by Doris, Thunder Tears. The songs were about old Taiwanese stories, myths, and misfortunes. You would have to read the CD insert to actually understand the political messages. They were rather restrained on stage, curtained off by their hair with occasional attempts at stage presence. The melody was a nice break from Skinless and the lovely strains of the erhu grabbed at me.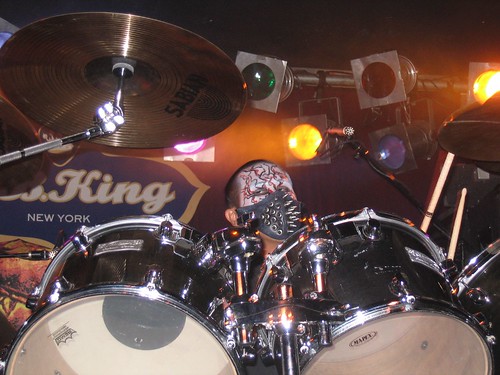 The drummer, Dani, Azathothian Hands, destroyed me. It may have been a snare drum issue but here and there the drummer seemed to be trying something the rest of the band had nothing to do with. I understand metal is supposed to be painful, but this was jarring and kept pulling me out of the music.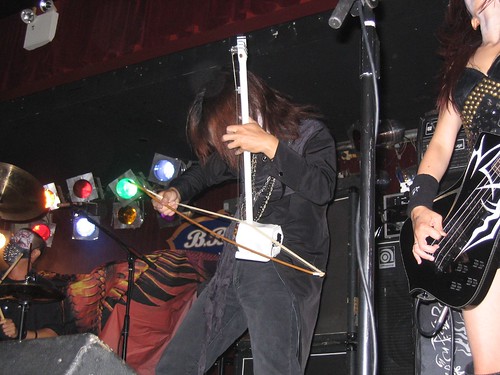 All throughout the performance I couldn't help glancing over at Su-Nung, the Bloody String who was rocking out with the erhu, which is an odd thing to say about a classically trained player of a solemn funeral instrument. During the opening of "The Gods Weep" the keyboardist CJ, Dispersed Fingers certainly justified his name. One of the last songs to be played, this was probably my favorite.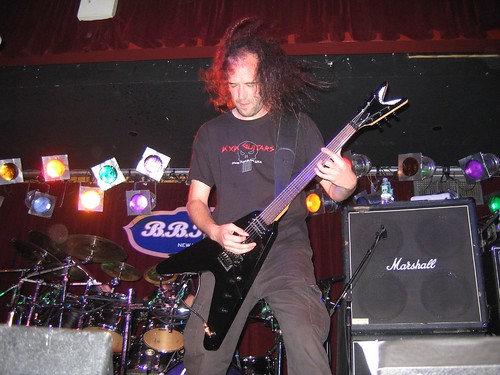 Like Manowar before them, Nile brought their own speakers. They didn't burst into the set right away, but walked out one by one, and stood there soaking up the screaming, including a shrill "I love you" from a girl behind me. With "What May Safely Be Written" Nile, a technical death metal band, owned the room. A pit opened up, but wasn't really vigorous. Despite the variety of songs played, from fast and murderous to slow and hypnotic, everyone seemed to be there to adore the music rather than use it to fuel mayhem.
On "Cast Down the Heretic" I finally realized that Dallas Toler-Wade isn't the only vocalist, and learned to appreciate Karl Sanders' growls even though he seemed to be having some issues. Years of metal snarls were telling as he got water between all the songs and had a few coughing fits.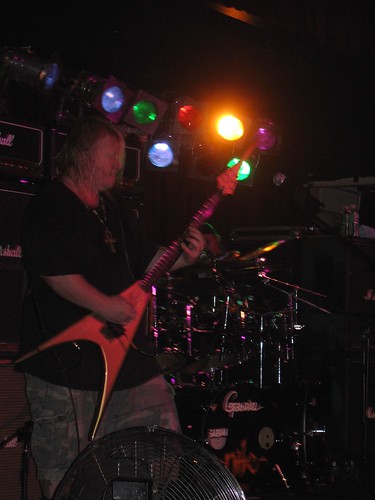 He impressed me not only with his stamina in the face of vocal cord abuse, but also by an endless line of guitar changes, my favorite being one I hope he calls The Impaler.To quote Dazvsemir "they have a flow to their music that you don't really get much from death metal. Dueling guitar solos, onstage antics, and multiple guitar swaps made it a great set." Aside from duels, they all appeared to just be jamming out together, lined up and headbanging in synch without any vocals to interrupt the flow. Sanders and and Toler-Wade especially as Chris Lollis (base) joined them just for the tour. The guitars wailed out a melody worthy of Egyptian tombs.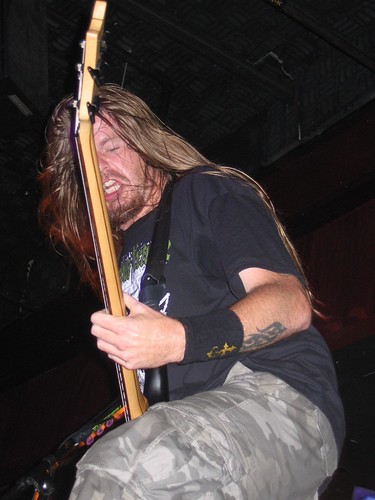 "Eat of the Dead" was introduced as "a song about how we're all going to be worm food one day" and was my personal favorite because it's so damn catchy and easy to sing along to. It started slow, the anticipation building, the drums kicking in, maddening us and then slowed again to a blood-cooling rhythm while Toler-Wade growled out the refrain (aka title). "Black Seeds of Vengeance" finished the set.
Nile ruled the night musically. They opened up my eyes, and my ears, to what can be done with death metal. Chthonic was exciting because it was exotic, although they didn't really leave much of an impression. Skinless was without question the most energetic band of the evening.
Skinless – 4 out of 5 stars – * * * *
Chthonic – 4 out of 5 stars – * * * *
Nile – 5 out of 5 stars – * * * * *
Article, Images and Media Copyright © 2007 to ETL and Dazvsemir