Ripley's Believe It or Not Odditorium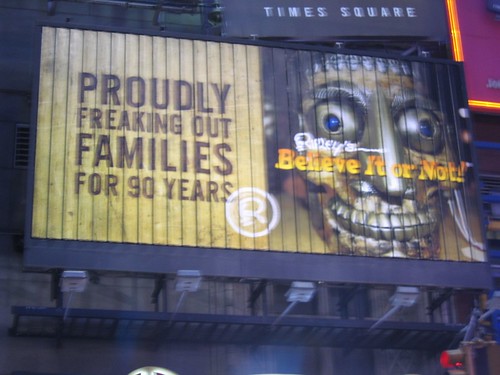 You buy your ticket underneath the hanging skeleton of Super-Croc who "didn't just live at the same time as the dinosaurs, he ate them!" The body of the monstrosity extends over the entrance and you walk into the main hall of Ripley's Believe it Or Not Odditorium.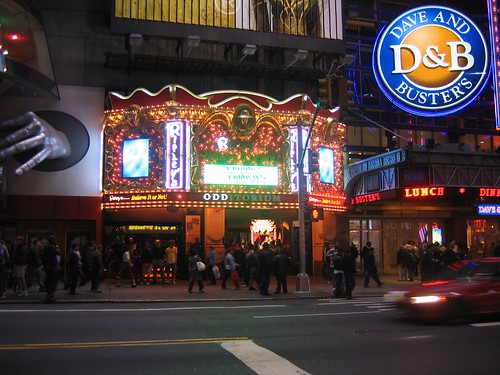 The gaudiness of the marquee incited in me the feeling that the place will be a rip-off. Its incredibly centralized, tourist-trap location —Times Square —did not help lessen my dread. I expected one large hall and maybe one or two more rooms after following the staircase. Instead, I spent hours looking through room after room after room of the collection.
If you are a fan of the show, then the odditorium hardly holds surprises. Nonetheless, it is a different experience —looking at six-legged calf skeleton on TV versus seeing it well-lit and rotating in front of you. If you haven't seen too many (or any) episodes, then the appeal is like that of any sideshow. In any case, the episodes are played for your benefit in various rooms, including a small theater dedicated specifically to that purpose and placed at a point when all you really want to do is sit down anyway.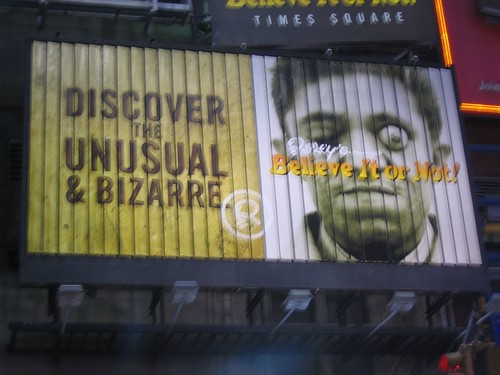 Never really crowded, the rooms are small and winding with tricks and scares tucked away here and there. The feeling is actually like that of going into someone's very odd house to look through his stuff. The occasional mention of Robert Ripley strengthens the feeling, especially in what appears to be a library full of antique furniture and just one small display case. That is, until a hologram of a tiny man starts singing at you from inside the display case and knocking things around.
The place is filled with stuffed animals such as the albino giraffe, photographs of such personages a more-than-just-ambidextrous girl, as well as a model of the fattest man in the world (over a ton at the time of death!) and his meal, turning slowly in the air under the ceiling. There is no lack of originals like a lock of presidential hair and a portrait of Lincoln made only of variously tarnished pennies. Many exhibits come with little stories or quizzes and an unending array of puns. There are also some points that require audience participation and you are welcome to a photograph of your head in a jar next to a few other formaldehyde dependents.
The Black Hole was a disconcertingly spinning room and left me a little woozy after convincing me that the bridge I was on was in fact tilting and just about to spill me into the void beyond. The place is part haunted house, part science museum. And part inspirational story. Ripley's isn't only about the curious, the ugly, the disturbing, but also about the beauty and the strength of beating the odds and being kind and brave. The obviously pleasing to the eye is something such as a jade representation of an ancient Chinese ship. But then there are stories like that of a man missing his arms and using his feet to play cards and shoot baskets on the court. Sorry about being all sugary, but it really was pretty amazing, maybe more amazing than the biggest beer stein ever, even when presented with a photo of Ripley trying to drink from it.
Despite spending hours in the place, I didn't actually see absolutely everything, but I did enjoy it. For the price of about $20 a head (with student ID and a discount pass you can request of the ticket seller), it was definitely worth it. As we left we checked out a mechanical doll of a fat lady and another carny having a chat at a tiny piece of fairgrounds constructed for the scene. Next to that water poured from a faucet seemingly suspended in midair. Outside was the endless milieu of tourists and hackers of tourist junk.
Article Copyright © 2007 to ETL