Ra Ra Riot and Tokyo Police Club are Friends of P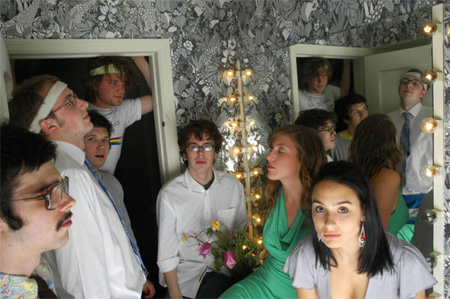 Friday, August 10, 2007. It was a cold and overcast night, but an entertaining one, because it included Ra Ra Riot and Tokyo Police Club plus openers Ford and Fitzroy at the Bowery Ballroom. I call it the night of the EP's (None of these artists have released a full length album). Doors opened at 8 PM so I decided to not show up 'till 9 hoping to see the openers finishing up their set. However, I arrived to an empty ballroom with members of Ra Ra Riot just hanging out. I stood around for a few minutes but felt awkward 'cause I was there all alone. At that point I decided a nice drink may help. Ordered a vodka with cranberry (not that this is important but just felt like mentioning it) and as I waited for the bartender to prepare my drink, I was informed the opening act had not even performed yet.
I'm actually glad I made in time to see Ford and Fitzroy. With interesting melodic beats and catchy lyrics, it was hard not to enjoy them. The singer looked and sang like he was the love child of Jack White of The White Stripes and Gerard Way of My Chemical Romance. The rest of the band looked indie and someone felt it was important to shout out loud "You guys are really thin." It was quite amusing. Overall, I enjoyed Ford and Fitzroy's set and would recommend fellow Tokyo Police Club and Ra Ra Riot fans to check them out.
-A side note: I happened to run into a few people from my past. Luckily they didn't recognize me. The world can be small at the weirdest times.
Back to the show! Next up was Ra Ra Riot. I was so psyched to see them since it has been almost 4 months since I last saw them and this time they were performing without beloved John Pike (recently deceased drummer). Not only did the band have a new drummer but a few even had some new looks. Cello player, Alex, is a blonde now rather than a brunette and Milo, bass player, has longer hair. Their performance was still the same: absolutely fucking awesome.
Like usual, they had their intense energy on stage plus more. They even played some new catchy tracks. I can't wait till they finally release that full-length album. I was also surprised to see how many people actually came out to see them. It was refreshing to see they have an adequate fan base in NYC. This is a band you want to make it. Who wouldn't enjoy songs where you can rock out to many crazy strings (guitar, bass, cello, and violin) like in "A Manner to Act" and sing along to catchy lyrics like on "Can You Tell." Please go see Ra Ra Riot and their wild on-stage performance at a venue near you!
Ra Ra Riot tends to hang out in the crowd quite often, and I happened to be right near the backstage area (what else is new) and so was often being brushed up against by their guitarist as he had conversations with friends and fans. I felt kind of sorry for him because two guys came up to him to harass him for information on Alex (Cello Player). They wanted to know if he was dating her or if she was dating anyone and then even went further to ask for her number; inappropriate and unnecessary behavior. For those of you who are also wondering if Alex is available, it was left unclear, but get in line behind the 40 people in front of you.
Now on to Tokyo Police Club. Not that impressed. It wasn't as energy driven as I was hoping it to be. But they weren't horrible either. They were just mediocre. I was able to dance to "Nature of the Experiment" but other than that I just swayed back and forth. They played a lot of songs I wasn't familiar with and the riffs just weren't being expressed the same way they were on the album. They were enjoyable at times nonetheless. They were lively and passionate and that was enough motivation for me to rock out. Tokyo Police Club, just a tip, please be as energetic on stage as you are on your album. It's your rocking out fast beats that we want!
The night ended with an encore of both Tokyo Police Club and Ra Ra Riot performing The Rentals "Friends of P." It's as if they knew I was in the crowd and they were dedicating the song to me. Thanks guys. I appreciate it! It was a great end to an evening.
Overall impressions:
Ford & Fitzroy – 4 out of 5 stars – * * * *
Ra Ra Riot – 5 out of 5 stars – * * * * *
Tokyo Police Club – 3/12 out of 5 stars – * * * */2
Article Copyright © 2007 to PMel