From Suburbia to Ruins: Adventures in Cancun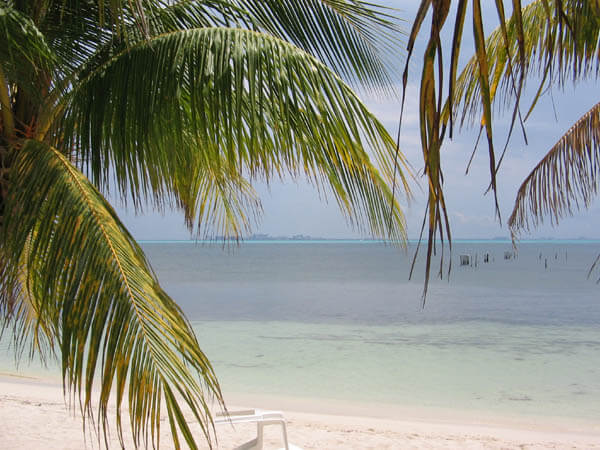 I had never traveled alone in my life. I've always held the preconceived notion that if I didn't travel with a friend, I couldn't possibly have fun in a foreign country. So it was with great reluctance (and a small bit of fear) that I planned an autonomous trip to Cancun. And then I found myself enjoying almost every moment spent there as well as in the surrounding areas (not to mention I overcame my fear of traveling alone).
When people hear "Cancun", the first image the mind may conjure is that of college students downing excessive amounts of alcohol, partying hard, having crazy sex in the clubs, and having beach parties. While this may very well be true, I did not witness the debauchery and insanity of binge drinking and hormone-fueled sex antics, and I must admit I was somewhat disappointed. The only logical explanation is that it wasn't quite the party season.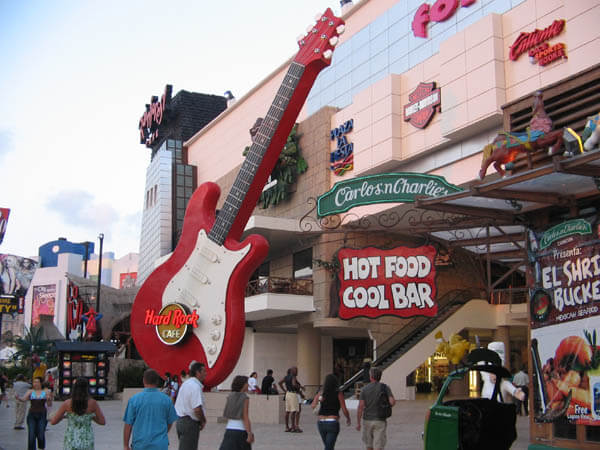 To be quite candid, Cancun itself is not spectacular. Despite being a long strip, the districts are very small, especially the bar/shopping area. But then again, I am not your average Cancuner (if such a term exists). While I occasionally like to find myself in the bar/club scene, I'm primarily an adventurer, preferring to visit ancient ruins, wander about in museums, and feast my eyes on the succulent beauty that can be found throughout Mexico. If Cancun holds any appeal, it lies in the surrounding areas. During my five-day stay, three days were set aside for tours.
I went to various places, those being the ruins of Chichen Itza, La Isla Mujeres, and Xcaret. The visits to Chichen Itza and later El Cenote, were my most cherished. The ancient grounds of Chichen Itza are comprised mainly of Mayan temples, and another section contains ruins from the Toltec-Mayan period. Located in Yucatan (three hours away from Cancun), the site is vast. It was a blistering 90 degrees when I visited Chichen Itza, so I bought a very nice $5 hat (which I later lost on a bus) and stuck to the shadows whenever possible.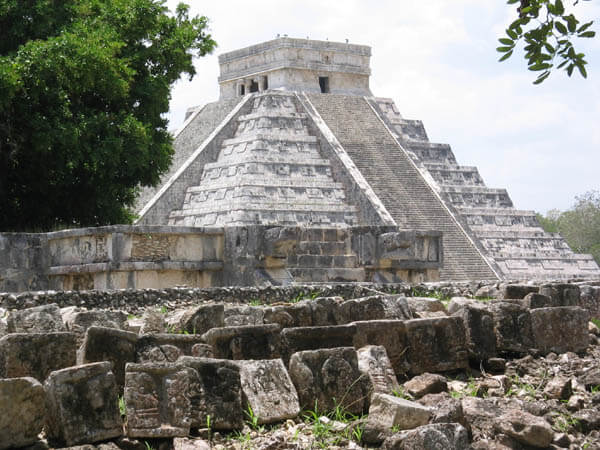 One of the numerous temples at Chichen Itza with a graveyard before it
We were treated to a very informative tour by one of the local guides. He explained to us the intricacies of the structures, the symbolism behind some of the statues and images, and gave us a very good overview of Mayan history as it pertained to Chichen Itza. I also couldn't help but notice the amount of rather large iguanas that would skitter on by, nor could I help thinking that iguanas are Cancun's equivalent to NJ's squirrels.
See the similarity?
The iguanas weren't cumbersome at all, but the sea of wandering merchants certainly was. I'm not one for being annoyed if someone wants to sell me an item, but when hundreds of merchants and their mothers (in most cases, literally) try selling you little statuettes for a dollar, it can get tiresome. The only merchants I happily gave business to were the ones that had ice-cold water for sale, and the one that sold me a really cool grim reaper statuette.
After a three-hour tour of Chichen Itza, we made a pit stop at a buffet, then made our way to El Cenote. A cenote is basically a sinkhole that formed by water breaking its way through the land that is mainly comprised of limestone (as I had found out from the tour guide at Chichen Itza). There are various cenotes to be found throughout Yucatan. The one we went to was only a few miles from Chichen Itza. Once there, I went to the gift store, where I had to rent a towel and buy the worst swim shorts in the world, as I had forgotten to bring them on this trip.
El Cenote was an experience like no other, and perhaps the most memorable activity on my adventure. The ancient stairway carved out by the Mayans spiraled down for about 100ft before reaching the water. It is not known how deep the water goes, as no one has ever ventured all the way down. Once I reached the water, I jumped in and was greeted by several poor catfish that received quite a scare from my splash. But once I settled in, they swam around me as if I were just one of the fish.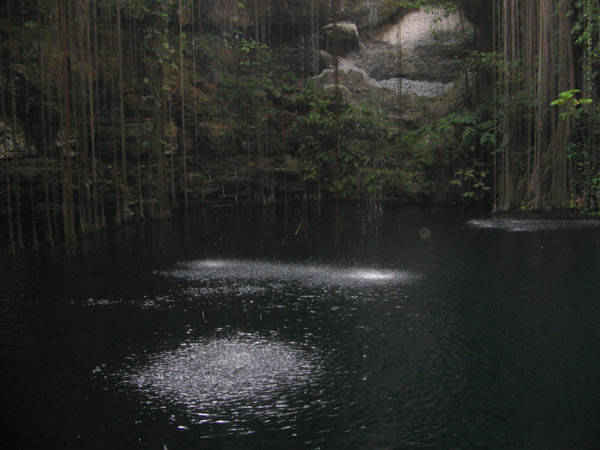 Words cannot do justice to the sensations I felt being there. I must admit it is a bit frightening to witness that, while the water is crystal clear and is as fresh as a bottle of Poland Spring, there is nothing but black past your feet. But as you look up, you can see sunbeams filtering through the hole from which the water continually flows, and you can see the vines and plants that made their homes on the inner walls of the pit. The tour allowed for a 30-minute swim before pushing us along. This was truly a very wondrous, mysterious, and beautiful place, especially as seen while floating in its waters.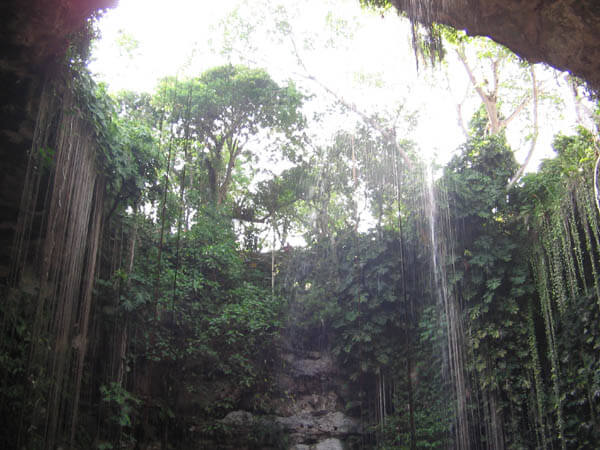 Also on the agenda was a trip to Isla Mujeres (Island of Women). The name is a misnomer, as it's not literally an island full of women, but as was explained by the tour guides on this trip, was really sort of a birthing ground for the Mayan women, hence the name. The boat ride was quite a lot of fun, and admittedly, I really wish I had a companion on this trip. From early AM, they begin to feed you all the beer and alcohol you can guzzle in the 30 minutes it takes to reach the island, not to mention that the crew on the ferry is an extremely lively bunch. With the bartender having worked bars in Vegas, it was almost acrobatic the way he handled the bottles and served drinks.
The only part more interesting than the boat ride to and back were the activities you could pay for. You had the option of snorkeling, scuba diving, swimming with dolphins, or the free alternative of just lounging in the beach area and enjoying the all you can eat and drink buffet. For $80 bucks, I felt that scuba diving was the best choice. It truly is a unique world underwater, and swimming around with a scuba tank & flippers was an even more unique experience.
Before being sent off into the coral reefs, you get 30 minutes of instruction, and when they feel you are ready, off you go on the little boat, cruising at 50-60 mph to reach the coral reef, where you get to swim for 45 minutes (which is as much air as you'll have). They aren't kidding when they say there are lots of fish in the sea, as you'll see an abundance of ocean life: from fish dashing away from your curious hands, to lobsters hiding inside some of the corals, and many other sea critters.
Xcaret was the last place I visited. It was most certainly beautiful, had quite a variety of activities, and was also a tad expensive. Truthfully, I did not enjoy my stay at Xcaret that much, if anything because the tour lasts all day (9am-9pm). I did enjoy snorkeling through the cave rivers found there, despite the fact that there was a bunch of other people just bobbing around like buoys and getting in the way.
Xcaret has a small section where you can see a variety of animals, a very small but nice man-made beach, the most eccentric cemetery I've ever seen, and various restaurants that serve some of the best lemonade I've ever tasted in my life. To enjoy Xcaret, you really need a group of friends, or a significant other to accompany you, and you need to just rent a car and drive there on your own, because as vast as it may seem, you can see most of Xcaret by late afternoon.
All in all, I am glad that I had gone to Cancun. It is really a pretty good place to go to if you are looking go lone wolf or if you have no choice but to go alone. My experience in Cancun was not only exciting, but also beneficial on both a personal and even educational level. I highly recommend Cancun either with friends or on your own.
Article and photography Copyright © 2007 to Beelzy