Date: 6/13/11
Venue: Spa Castle, 131-10 Ave Collegepoint, NY 11356
Event: A day's worth of sitting around in saunas, swimming, eating Korean food– to culminate in an assult by a tiny near-naked middle-aged Korean woman with scrubby pads.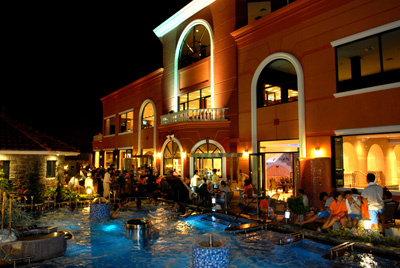 The day began as many days of mine begin… with a crazy-ass workout where I do something previously assumed to be impossible (like lift 300lbs). Afterwards, I promised my aunt to go with her to a spa I've never heard of, but which she raved about. I've never been to a spa before, therefore this can't be an objective comparison to other such establishments… but something tells me "other such establishments" are far and few between. You be the judge.
The place is called Spa Castle and is touted as a luxurious experience for an unusually low price. In fact, their slogan is "Welcome to Paradise." $35 on a weekday ($45 on a weekend) will get you into 4 floors worth of hot baths, saunas, food courts, lounges, bars, massage chairs, rooftop bade pools with jets of waters beating different bits of you, a fitness center (for an extra $5) and an opportunity to be surrounded by naked women. If you're a woman too. Sorry about that… I know some of you just got excited. The place is open from 6:30am until 11:30pm and you can hang out as long as you like once you pay the entrance fee. For more money you can also get a variety of treatments, mostly massages, more on that later.
It all began quite excitingly with me driving back and forth in front of the place not understanding where to park until my aunt finally saw me, and waved me frantically towards the front where an honest to god valet quickly sped off with my car to an unknown location at no charge (I got the car back, just so you know). We finally entered, paid, and were given little magnetic watches, each with a number that served as a locker key as a well as a way to keep a mounting tab without concerning yourself with things like money or cards, or pants in which to carry them. Continue reading →